Dr Razzaque pays homage to Bangabandhu at Kolkata Baker Hostel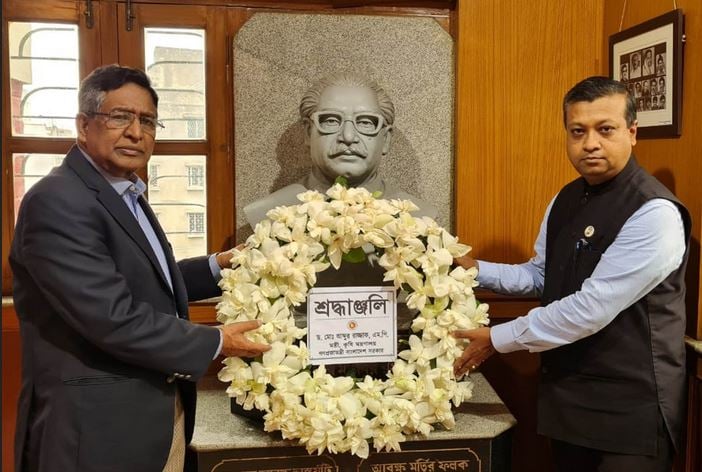 DHAKA, June 10, 2023 (BSS) - Agriculture Minister and Awami League (AL) Presidium Member Dr Md Abdur Razzaque today paid rich tributes to Father of the Nation Bangabandhu Sheikh Mujibur Rahman by placing a wreath at Bangabandhu's portrait at Baker Hostel of Islamia College, now Moulana Azad College, in Kolkata, India.
"Bangabandhu Sheikh Mujibur Rahman has always been a constant source of awakening our patriotism and consciousness," said Abdur Razzaque, a press release said here today.
Bangabandhu involved himself in politics at an early age and took a vow for the well-being of people, said Dr Razzaque, also the Awami League (AL) presidium member.
"By visiting the institutions and dormitories where Bangabandhu studied and lived during his youth, we can sharpen the spirit of our Liberation War and independence," he added.
Bangladesh Deputy High Commissioner in Kolkata Andalib Elias was present on the occasion.
The Father of the Nation, Bangabandhu Sheikh Mujibur Rahman had got admission at Islamia College (now Maulana Azad College) in the 1940s. He was a resident student of room number 24 of Baker Hostel of the college.
The West Bengal government is now preserving the room as 'Bangabandhu Smrity Kakkha'.