Bangladesh Int'l Aquaculture Seafood Show 2023 on Oct 19-21 in Dhaka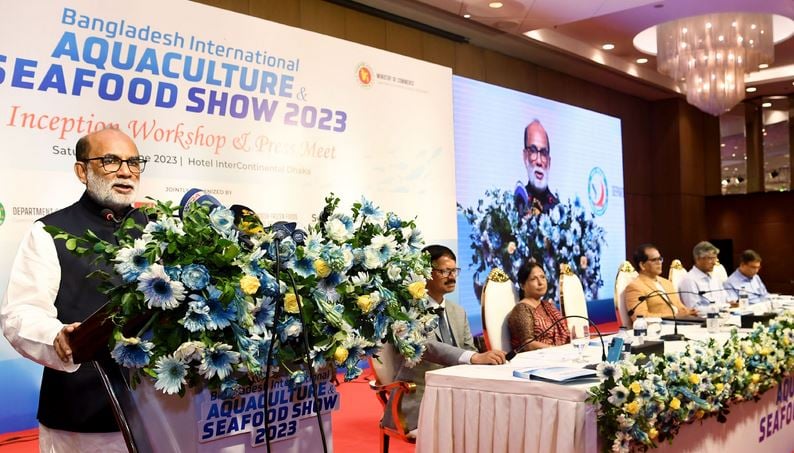 DHAKA, June 10, 2023 (BSS) - The three-day Bangladesh International Aquaculture Seafood Show 2023 will be held for the first time in the country in a large extent on October 19-21, 2023 in Dhaka.
The show will be held at the Bangabandhu International Conference Center (BICC) in the capital where both local and foreign companies related to aquaculture and seafood industry, seafood processors, exporters, researchers and educationists, representatives from government agencies, financial institutions, investors, manufacturers, policy makers, international buyers and businessmen are expected to take part. This show is also expected to make an epoch making flourish in the aquaculture and seafood industry of Bangladesh.
Fisheries and Livestock Minister SM Rezaul Karim revealed this while addressing a press conference held at a city hotel.
The Ministry of Fisheries and Livestock, the Department of Fisheries, Ministry of Commerce, Bangladesh Investment Development Authority (BIDA), Bangladesh Frozen Foods Exporters Association and Solidaridad Bangladesh will jointly organize this show, said a press release.
Executive chairman of BIDA Lokman Hossain Mia and Commerce Ministry senior secretary Tapan Kanti Ghosh were present, among others, on the occasion.
Speaking on the occasion, SM Rezaul Karim said that this show will be held in a bid to ensure speedy flourish of the country's aquaculture seafood industry in both local and international arena.
He said this show would feature aquaculture technology, modern machineries and equipments, processing machineries, packaging and other products. "The show is expected to usher new hope and initiatives in the concerned business and trade," he added.
Referring to a research conducted by US-based research firm Vantage Market, the Minister informed that the size of the global aquaculture market in 2022 was $289.6 billion which is expected to reach $421.2 billion by 2030.
Quoting another research of research firm Statista, the Fisheries Minister said that size of the Bangladesh's fisheries and seafood market was $17.38 billion in the outgoing fiscal year adding that the size of the global fisheries and seafood market would stand at $1,167 million in 2028.
Rezaul said that due to the various initiatives of the government, the export earnings of Bangladesh from the fisheries sector grew by 26.96 percent in the outgoing fiscal year.
Listing various steps of the government towards ensuring compliance in the fisheries sector, he said the government has transformed the conventional system of shrimp hatchery into SPF hatchery, introduction of cluster-based shrimp cultivation, boosting productivity of shrimp farms, improvement of supply chain, creating digital database of existing countrywide shrimp farms, introduction of integrated e-treasibility system.
The Minister hoped that the Bangladesh International Aquaculture Seafood Show 2023 would play an indispensible role towards building "Smart Bangladesh" as declared by Prime Minister Sheikh Hasina.