Preparations complete for Khulna City Corporation polls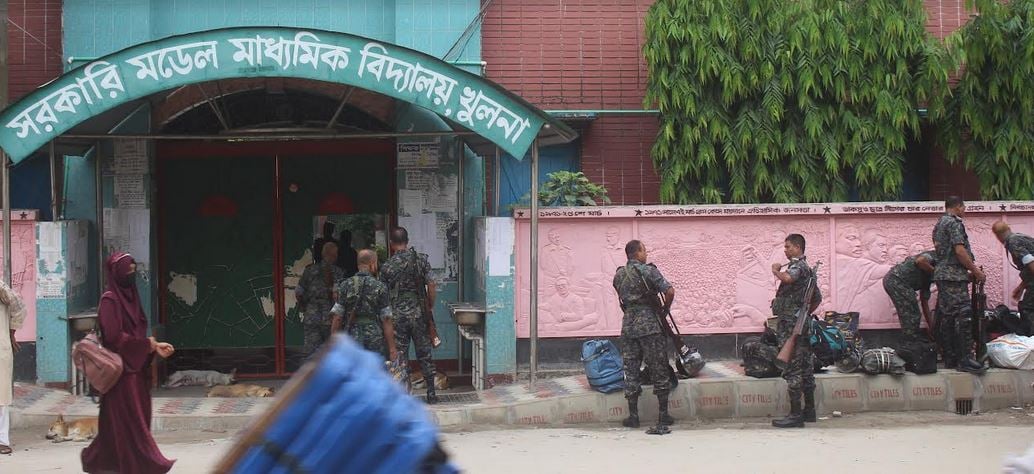 KHULNA, June 10, 2023 (BSS)-The Election Commission (EC) has already completed its preparations for holding the June 12 Khulna City Corporation (KCC) Polls in a free, fair and peaceful manner.
Meanwhile, the candidates for the post of mayor, general councilors and reserved women councilors are passing their last moments in door-to-door campaign to attract the voters as the campaign will end at midnight today.
Returning Officer (RO) for the KCC Polls-2023 Md. Alauddin told BSS that three-tier security measures have been taken for holding the polls peacefully to ensure a complete security blanket in the city areas.
"We have received electronic voting machines (EVMs) from the EC and taken necessary steps for holding the polls at all 289 centres using EVMs peacefully," he said.
A total of 289 presiding officers, 1,732 assistant presiding officers and 3,464 polling officers with election inputs and security forces will reach to the polling centers tomorrow.
Adequate members of law enforcement agencies including Police, Ansar, APBN, and Rapid Action Battalion (RAB) will be deployed from tomorrow for holding the KCC polls peacefully, said Sarder Rakibul Islam, Additional Commissioner of the KMP to BSS.
A total of 31 roving teams, 10 striking teams with striking force and six reserved striking force teams comprising Police, APBN, and Battalion Ansar, 16 teams of RAB will remain alert during the polls.
Besides, 11 Platoon Border Guards Bangladesh (BGB) will be ready to be deployed if necessary, the RO said.
In addition, plain cloth security personnel of the RAB, police and intelligence team will remain on duty to ensure the maximum degree of security for holding the polls peacefully.
Thirty-one executive magistrates are leading 31 mobile courts while 10 judicial magistrates are leading 10 summary courts to conduct trials for violation of election rules from Sunday and will continue to work till June 13 next.
The KCC polls will be held at 1,732 booths of 289 polling centres using EVMs from 8:00 am to 4:00 pm on June 12 next.
"Around 2,000 CCTV cameras have already been installed aiming to monitor the KCC polls from both Dhaka and Khulna. If any problem is noticed, steps will be taken immediately," the Returning Officer added.
All 173 contesting candidates, including five for mayoral post, 134 for 29 general councilors and 39 for 10 reserved female councilors posts, are making their rest-less door-to-door public contacts in the last-moment poll campaign that will end today midnight. Two councilors for wards 13 and 24 have been elected unopposed.
In the KCC polls, this year, five candidates, who are vying for mayoral post, are-AL backed Talukder Abdul Khaleque (Boat), Jatiya Party's Shafiqul Islam Modhu ((Plough), Bangladesh Islami Andolon's Moulana Abdul Awal (Hand Fan), Zaker Party's S M Sabbir Hossain (Rose) and independent candidate Shafiqur Rahman Mushfiq (Table clock).
As many as 5,35,522 voters, including 2,68,828 male and 2,66,698 female, will cast their votes in the KCC polls.