Mediators announce 24-hour Sudan truce with warning to rival generals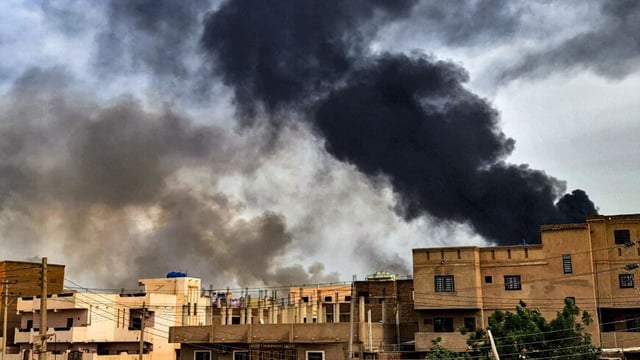 KHARTOUM, June 10, 2023 (BSS/AFP) - Sudan's warring generals have agreed to a 24-hour ceasefire from Saturday, US and Saudi mediators said, acknowledging that previous attempts to pause a conflict now nearing its third month had proved abortive.

Multiple truces have been agreed and broken since fighting erupted on April 15, and Washington had slapped sanctions on both rival generals after the last attempt collapsed at the end of May.

"Representatives of the Sudanese Armed Forces and the Rapid Support Forces (RSF) agreed to a 24-hour countrywide ceasefire beginning on June 10 at 6:00 am (0400 GMT)," said a joint statement from the mediators released by the Saudi foreign ministry on Friday.

"Should the parties fail to observe the 24-hour ceasefire, facilitators will be compelled to consider adjourning" talks in the Saudi city of Jeddah which have been suspended since late last month, the mediators said.

The fighting has gripped the capital Khartoum and the western region of Darfur, killing upwards of 1,800 people, according to the Armed Conflict Location and Event Data Project.

Nearly two million people have been displaced, including 476,000 who have sought refuge in neighbouring countries, the United Nations says.

The Saudi and US mediators said they "share the frustration of the Sudanese people about the uneven implementation of previous ceasefires".

The army, led by Abdel Fattah al-Burhan, said it has "agreed to the proposal", adding in a statement it "declares its commitment to the ceasefire".

The paramilitary RSF, commanded by Burhan's former deputy Mohamed Hamdan Daglo, later said in a statement: "We affirm our full commitment to the ceasefire."

Both statements said the truce could support humanitarian efforts, while cautioning against violations by their opponents.

"If observed, the 24-hour ceasefire will provide an important opportunity... for the parties to undertake confidence-building measures which could permit resumption of the Jeddah talks," the US-Saudi statement said.

- 'Immense needs' -

US Secretary of State Antony Blinken on Thursday wrapped up a three-day visit to Saudi Arabia, where he held discussions on Sudan with top Saudi officials.

Friday's announcement came a day after Sudanese authorities loyal to Burhan declared UN envoy Volker Perthes "persona non grata", accusing him of taking sides.

UN chief Antonio Guterres on Friday expressed support for Perthes, who is currently in the Ethiopian capital Addis Ababa for a series of talks.

Guterres said "the doctrine of persona non grata is not applicable to or in respect of United Nations personnel" and is contrary to Khartoum's obligations under the UN charter, according to his spokesman Stephane Dujarric.

The fighting has sidelined Perthes's efforts to revive Sudan's transition to civilian rule, which was derailed by a 2021 coup by the two generals before they fell out.

It has also complicated the coordination of international efforts to deliver emergency relief to the 25 million civilians that the United Nations estimates are in need.

Alfonso Verdu Perez, outgoing head of the International Committee of the Red Cross delegation in Sudan, warned on Friday that "health care may collapse at any moment".

"The needs are immense and much more remains to be done" in both Khartoum and Darfur, he told reporters in Geneva.

About one fifth of medical facilities in the capital are still functioning but face "severe shortages" of water, food and electricity, and "are running low on essential medical supplies", he added.

Witnesses reported hearing clashes on Friday near the Yarmouk weapons manufacturing and arms depot complex in Khartoum, from where plumes of smoke were seen rising for a second day.

Air strikes were also carried out in eastern parts of the capital and the sound of anti-aircraft fire was heard, with witnesses also reporting artillery fire and clashes in Omdurman, Khartoum's twin city across the Nile.

Those unable to leave have been forced to camp out for weeks as supplies of food and other vital goods run low.

- 'Distraction' -

Sudan specialist Aly Verjee said that in expelling Perthes, Burhan was following in the footsteps of his ousted predecessor Omar al-Bashir who threw out then-envoy Jan Pronk in 2006.

"Like then, the focus on Perthes is ultimately a distraction," said Verjee, a researcher at Sweden's University of Gothenburg.

"Trying to save Perthes's job won't help resolve the much bigger issues that Sudan now faces, not least to dampen the ongoing hostilities."

Perthes and the UN mission he heads have been targeted since late last year by military and Islamist-backed protests denouncing perceived foreign interference.

A Sudanese government official who spoke to AFP on condition of anonymity said the decision was taken "because he sided with certain political parties" and sought to "exclude others" from the transition process.

A former academic who has headed the Sudan mission since 2021, Perthes has staunchly defended the UN against accusations of inflaming the conflict, saying those responsible are "the two generals at war".