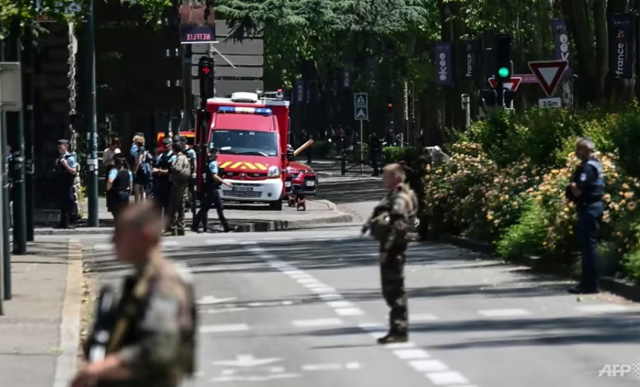 ANNECY, France, June 8, 2023 (BSS/AFP) - A Syrian refugee armed with a knife stabbed four preschool children and injured two adults by a lake in the French Alps on Thursday in an attack whose motive remains unclear.
The youngest victim in the quiet town of Annecy was just 22 months old and investigators are trying to understand the reasons for the frenzied rampage in a sunny public park at around 9:45 am (0745 GMT).
The attacker, dressed in black and carrying a blade around 10 centimetres (four inches) long, could be heard shouting "in the name of Jesus Christ" on a video taken by a bystander and seen by AFP.
"There's no obvious terrorist motive," local prosecutor Line Bonnet-Mathis told reporters in the lakeside town near the Swiss city of Geneva.
She said an investigation for attempted murder had been opened and that the suspect, named as Abdalmasih H, was not under the influence of drugs or alcohol.
Prime Minister Elisabeth Borne said the suspect was "not known by any intelligence service" and did not have "any history of psychiatric problems".
"We are shocked by this hateful, indescribable act," she said after rushing to the scene.
- Asylum request rejected -
Recently divorced from a Swedish national and in his early 30s, the suspect had previously lived for 10 years in Sweden where he was granted refugee status in April, security sources and his ex-wife told AFP.
"He called me around four months ago. He was living in a church," his ex-wife said on condition of anonymity, saying he had left Sweden because he had been unable to get Swedish nationality.
The attacker's mother, who has lived in the United States for 10 years, said she was "in a state of shock".
She said that her former daughter-in-law had said her son was depressed.
"He applied for nationality but was rejected", presumably because he had served in the Syrian army, she said, adding "that probably drove him mad".
French Interior Minister Gerald Darmanin told broadcaster TF1 that "for reasons not well explained he had also sought asylum in Switzerland, Italy and France".
It emerged that a late November application in France was rejected last Sunday as he already enjoyed refugee status in Sweden.
Darmanin described the turning down of that application and the stabbings as a "troubling coincidence."
Witnesses described the assailant running around the park on the banks of Lake Annecy wearing a bandana and sunglasses, apparently attacking people at random.
Armed police arrested him at the scene.
"He wanted to attack everyone. I moved away and he lunged at an old man and woman and stabbed the old man," former professional footballer Anthony Le Tallec, who was running in the park, told the local Dauphine Libere newspaper.
- Traumatic attacks -
All four child victims aged between 22 and 36 months, including a British boy, were in a critical state in hospital.
UK consular officials were travelling to the area to support the boy's family, British Foreign Secretary James Cleverly said during a trip to Paris.
Chancellor Olaf Scholz said "Germany is shocked by this odious and despicable attack in Annecy which also affected a German child."
French President Emmanuel Macron called the violence an "attack of absolute cowardice" while British Prime Minister Rishi Sunak said "all our thoughts are with those affected by this unfathomable attack, including a British child," at a White House news conference with US President Joe Biden.
France has suffered a series of traumatic attacks in the last decade or so, most of them by Islamic extremists.
In 2012, a Franco-Algerian Islamic extremist named Mohamed Merah killed seven people, including three children and a rabbi at a Jewish school in the southern city of Toulouse.
Most recently, the beheading of a teacher in broad daylight in 2020 near his school in a Paris suburb by a radicalised Chechen refugee led to shock and grief, as well as a national debate about the influence of radical Islam in deprived areas.
- Immigration -
Thursday's attack spurred fresh scrutiny of France's immigration and asylum policy, with right-wing politicians seizing on the culprit's identity as a refugee.
"The investigation will determine what happened, but it seems like the culprit has the same profile that you see often in these attacks," the head of the right-wing Republicans party, Eric Ciotti, told reporters at parliament.
Macron recently said France was undergoing a process of "de-civilisation" -- a title of a book by a notorious far-right ideologue, Renaud Camus.
The comments echoed those in 2020 by Darmanin, who said France was "turning savage".
He had been attending a meeting of interior ministers in Luxembourg on Thursday, where EU nations reached agreement on a long-stalled revision of the bloc's rules to share the hosting of asylum seekers and migrants more equitably.
Darmanin is also drafting a new immigration law for France which he hopes will include tougher measures to deport foreign nationals while offering more legal routes to visas for unskilled workers.