Bangladesh Army to plant 1.92 lakh saplings this year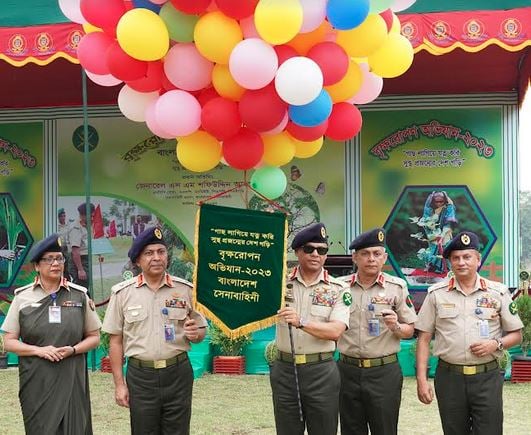 DHAKA, June 8, 2023 (BSS) - Bangladesh Army today launched the tree plantation campaign 2023 to plant 1,92,173 saplings at all cantonments, DOHS and Jolshiri Abashon (housing) project areas.
Chief of Army Staff General S M Shafiuddin Ahmed inaugurated the programme with the theme 'Let's nurture trees after planting, build a country of healthy generation' by planting a sapling of Bakul tree (Mimusops elengi) at Shaheed Moinul Road area of Dhaka Cantonment in the city, said an ISPR press release.
Senior army officials of Army Headquarters and Dhaka region, including GOCs and officials of other ranks, were present on the occasion.
Under the campaign, the release said, saplings of different fruit and timber trees and medicinal plants as well as beautifying trees will be planted by September 5.
The objective of this tree plantation programme is to encourage everyone to plant trees with the aim of increasing the forest resources of the country and protecting the ecological balance.