Brazil delays key Indigenous land rights trial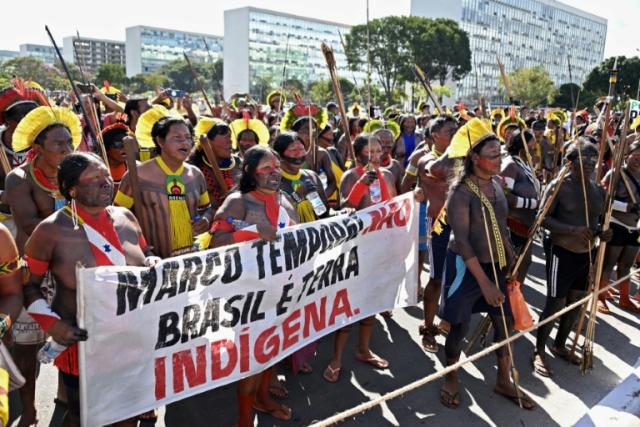 BRASILIA, June 8, 2023 (BSS/AFP) - Brazil's Supreme Court on Wednesday postponed a critical trial over Indigenous ancestral land rights as demonstrators protested in the capital.
The case -- which began in 2021 and has been called "the trial of the century" for the country's native peoples -- could remove protected status for some native lands, opening them up to agribusiness and mining.
Hundreds of Indigenous people from all over the country have camped in Brasilia this week in anticipation of the trial, which had been set to begin Wednesday.
The delay came when one of the judges asked for more time to review the case, which asks whether the government should recognize protected Indigenous lands where the current inhabitants were not living when the country's 1988 constitution was adopted.
So far, three of 10 judges have voted on the case -- one in favor of the 1988 cut-off, or against the native peoples, and two with the opposite opinion.
Now, the court has 90 days to set a new date for the vote to proceed.
The matter revolves around the Brazilian constitution's protection of Indigenous lands.
The agribusiness lobby argues those protections should apply only to lands whose inhabitants were present there in 1988, when the constitution was adopted.
Indigenous rights activists argue the constitution mentions no such time limit, and that native inhabitants have often been forced from their ancestral lands.
Members from 20 different ethnic groups, along with the Minister of Indigenous Peoples Sonia Guajajara, were present at the court Wednesday.

The trial's deferral is "emotionally draining" for Brazilian communities waiting for an answer, Daniel Pataxo, a leader of the Pataxo people in northeastern Bahia state said.
"It ends up being a lack of respect for us as human beings," the 38-year-old, who traveled to Brasilia for the trial, told AFP outside the court, where dozens of Indigenous people had gathered.
Elsewhere in Brazil, roadblocks were set up by Indigenous people in at least three different states Wednesday, authorities said.
Last week, the lower chamber of Congress passed a bill in favor of the 1988 time limit, in a blow to leftist President Luiz Inacio Lula da Silva, who campaigned on protecting Indigenous rights.
Brazil counts nearly 800 Indigenous territories, though around a third of them have yet to be officially defined, according to the National Foundation of Indigenous Peoples (FUNA).
Environmentalists say protecting Indigenous reservations is one of the best ways to stop the destruction of the Amazon, a critical resource in the race to curb climate change.