President's parade held in BMA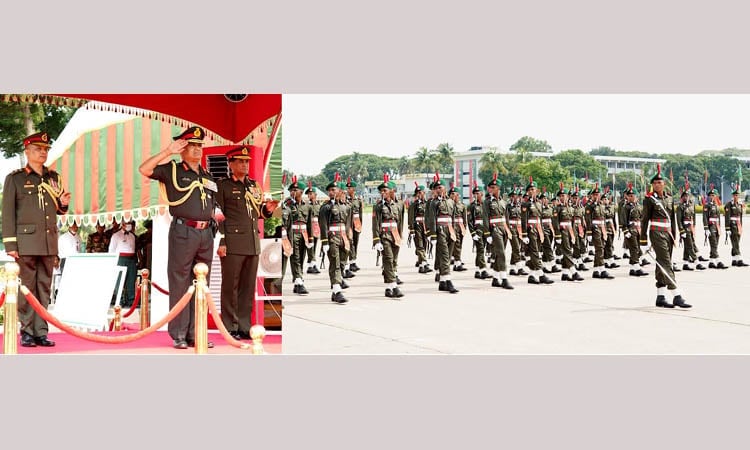 CHATTOGRAM, June 6, 2023 (BSS) - The President Parade on the occasion of commissioning the officer cadets of the 84th BMA Long Course of Bangladesh Military Academy (BMA) was held through a colourful ceremony at Bhataiary BMA Parade Ground in Chattogram on Tuesday.

General Monoj Pandey, Chief of Army Staff, Indian Army, reviewed the smartly turned out parade and took salute at the impressive march past as chief guest at the President Parade.

He also distributed medals and awards among the cadets for their outstanding performance in the academy.

A total 148 including 23 lady cadets of the Bangladesh Military Academy (BMA) here formally passed out through a colorful ceremony at Bhataiary BMA Parade Ground today.

Among the commissioned officers in Bangladesh Army, 123 male cadet and 23 female cadets were from the 84th BMA Long Course.

Earlier, General Officer Commanding, Army Tanning and Doctrine Command and the commandant of the Academy received the chief guest on his arrival at the BMA Parade Ground.

Battalion Senior Under Officer Sheikh Sabbir Ahmed was adjudged the best all round cadet in the 84th BMA long course and was awarded coveted 'Sword of Honour'.

Company Sergeant Major Mohammad Tanveer Rahman Tapu was awarded the 'Chief of Army Staff's (CAS) Gold Medal' for his outstanding performance in the military subjects.

Officer Cadet Emerton John Kombo (Tanzania) won the 'Bangladesh-India Harmony Trophy' as the best foreign officer cadet.

The cadets formally took oath and were later adorned with the rank badges by their respective parents and guardians.

The hour long passing out parade and oath taking ceremony were held with the spirit stimulating sounds of drums and instruments and singing of patriotic songs enthralled the high civil and military officials attended there.

Addressing the occasion, General Monoj Pandey reminded the new recruit cadets of their sacred duties to their respective country and nation and urged them to discharge their duties with utmost sincerity.

"Discipline and sincerity towards the duties are two important basics to achieve professional excellence and build yourselves as an ideal troop", General Pandey, said.

The high ranking civil and military officials, Military and Defense attaches of Diplomatic Missions in Dhaka, local elites, parents and guardians of the cadets witnesses the joyous and gratifying ceremony.