Good governance in service deliveries imperative to build Smart Bangladesh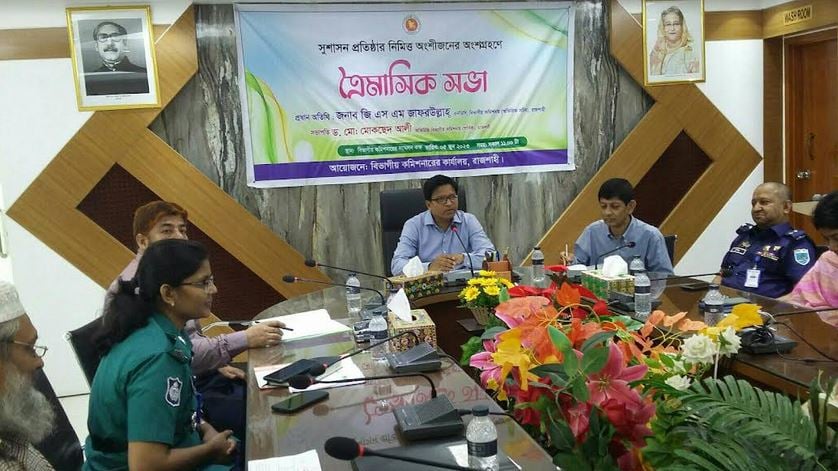 RAJSHAHI, June 5, 2023 (BSS) - Ensuring good governance in service deliveries in both public and private sectors can be the crucial means of building 'Smart Bangladesh' envisioned by Prime Minister Sheikh Hasina.

Simultaneously, good behaviour, honesty, timeliness, discipline, transparency and accountability in all the service delivery points are the prime needs of ensuring good governance.
Commissioner of Rajshahi division GSM Jafarullah came up with the observations while addressing a stakeholders meeting to ensure good governance at his office here today as chief guest.
With Additional Divisional Commissioner Dr Moksed Ali in the chair, the meeting was addressed, among others, by Director of the Local Government Enamul Haque, Superintendent of Police Monirul Islam, Editor of Daily Sonar Desh Akbarul Hassan Millat, Assistant Commissioner (Land) Shahim Mian and local unit president of Women Entrepreneurs Association Bangladesh Anjuman Ara Parveen.
Commissioner Jafarullah added that the present government under the prudent and visionary leadership of Prime Minister Sheikh Hasina has been working tirelessly for building 'Smart Bangladesh' for transforming the country into a developed one by 2041.

Digital Bangladesh has already been built and time has come to build Smart Bangladesh with the dynamic and competent leadership of the Premier.

He told the meeting that a target has been set up to build Smart Bangladesh on the basis of four pillars- Smart Citizen, Smart Government, Smart Society and Smart Economy- by 2041.

Smart Bangladesh could be possible when cherished progress in the field of all the vital sectors. "We have no more time to look backward but we have to look forward as the present Bangladesh has been marching forward vibrantly," he added.
Around 30 persons consisting of government officials, development activists, business leaders, valiant freedom fighters, members of civil society and journalists joined the meeting sharing views on how they supplement the process of establishing good governance.