PM's 10 initiatives implementation vital to build Smart Bangladesh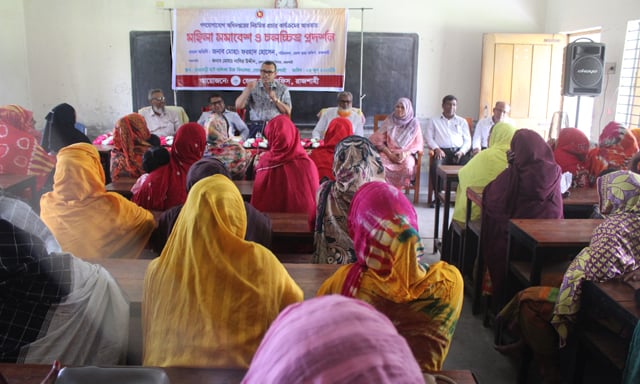 RAJSHAHI, June 4, 2023 (BSS) - Full-length implementation of the Prime Minister's (PM's) ten innovative initiatives can be the crucial means of building Smart Bangladesh envisioned by Prime Minister Sheikh Hasina.
Utmost emphasis should be given on implementation of the ten special initiatives besides reaching the messages related to the building of Smart Bangladesh to the grassroots populations.
Government officials made the observation while addressing a daylong community level women's gathering and film show meeting at Rajabari hat Girls High School under Godagari Upazila in the district on Saturday.
As part of its regular publicity programme of the Department of Mass communication, the District Information Office (DIO) organized the meeting.
DIO Director Farhad Hossain and Valiant Freedom Fighter Shahadul Haque addressed the meeting as chief and special guests respectively with District Education Officer Nasir Uddin in the chair.
DIO Deputy Director Nafeyala Nasrin welcomed the participants giving an overview of the ten initiatives along with achievements so far during her concept keynote presentation.
Farhad Hossain called for implementing the initiatives taking these in own conscience and spirit and termed the initiatives as key-factors of elevating the country to the line of developed nations by 2041.

"If we attain hundred percent of implementation of the ten initiatives, all the 17 sustainable development goals will be achieved within the stipulated 2030," he said, adding that there is correlation between the 10 initiatives and SDGs.
He also said the ten initiatives have already started uplifting the country as these engaged all strata of life in terms of inclusive development of the country.
Hossain also said Smart Bangladesh could be possible when cherished progress in the field of industries, factories, trade, business, health, education and agriculture will attain.
"We have no more time to look backward but we have to look forward as the present Bangladesh has been marching forward vibrantly," he added.
.