JS adopts obituary motion on eminent lawmaker Farooque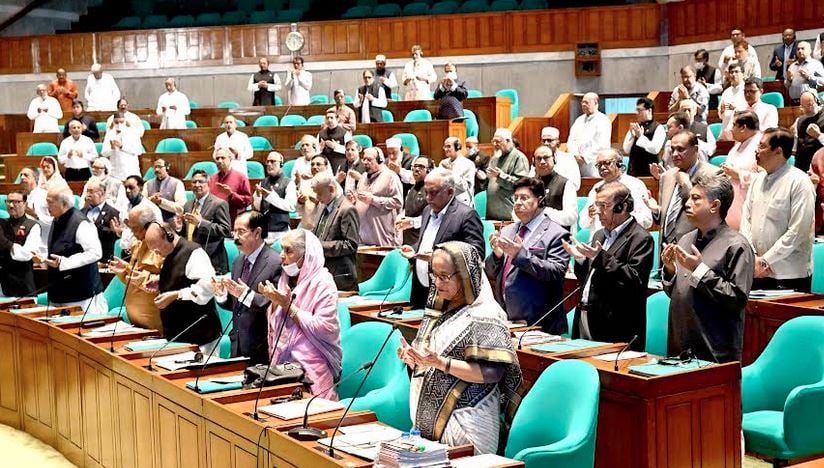 SANGSAD BHABAN, May 31, 2023 (BSS) - The Jatiya Sangsad today unanimously adopted a condolence motion expressing profound grief over the deaths of some distinguished personalities, including eminent ruling party lawmaker, actor and valiant freedom fighter Akbar Hossain Pathan (Farooque).

Speaker Shirin Sharmin Chaudhury moved the condolence motion at the outset of the 23rd session of the 11th parliament.
Participating in the obituary motion on the death of eminent film actor Farooque, who also a valiant freedom fighter, the treasury and opposition Jatiya Party lawmakers said his demise has created a huge vacuum in the arena of politics.

"Valiant freedom fighter Farooque was a popular cultural activist and he was a tested political leader of the ruling Awami League", said ruling party lawmaker Amir Hossain Amu of Jhalokathi-2.

Recalling the memory of the deceased lawmaker of Dhaka-17, Deputy Leader of the Jatiya Sangsad Matia Chowdhury said "Farooque was not an activist, but he was also a successful hero of the Bengali film".

Paying rich tribute to the noted parliamentarian, Prime Minister Sheikh Hasina said after the brutal killing of Father of the Nation Bangabandhu Sheikh Mujibur Rahman, none except the cultural activists had come forward to demonstrate on behalf of the slain leader Bangabandhu.

Hasina, also Leader of the House, prayed for the eternal peace of the departed soul and conveyed profound sympathy to the bereaved family.

Treasury bench lawmakers Tofail Ahmed of Bhola-1, Sheikh Fazlul Karim Selim of Gopalganj-2, Meher Afroz of Gazipur-5, Asaduzzaman Noor of Nilphamari-5, Deputy Leader of the opposition in the parliament Golam Mohammad Kader of Lalmonirhat-3, Anisul Islam Mahmud of Chattogram-5 and Kazi Feroz Rashid ofDhaka-6, among others, also participated in the obituary reference.

Earlier, Speaker Shirin Sharmin Chaudhury moved the obituary references separately with brief resumes on those who died after prorogation of the 22nd session of the 11th parliament on April 10.
While moving the references, the Speaker said the House expresses its deep shock at the death of former state minister M Kabir Hossain, noted social worker and founder of the Gonoshasthaya Kendra, the first health center or hospital in independent Bangladesh, valiant freedom fighter Dr Jafrullah Chowdhury, Veteran politician Pankaj Bhattacharya, popular Indian writer Shamresh Majumder, former advisor to the caretaker government and noted business entrepreneur Rokeya Afzal Rahman, Rahima Wadud, mother of Education Minister Dr Dipu Moni, Renowned singer and youngest daughter-in-law of National Poet Kazi Nazrul Islam Kalyani Kazi, among others.

Later, the obituary motion was unanimously adopted by the house, praying for their eternal peace and observed one-minute silence as mark of respect to the departed souls. Munajat was also held. Treasury bench lawmaker Hafez Ruhul Amin Madani conducted the munajat.