Collective efforts stressed for strict enforcement of CRPA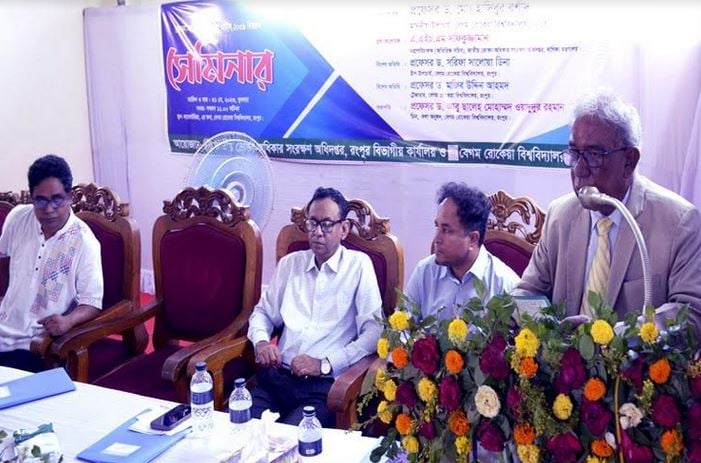 RANGPUR, May 31, 2023 (BSS)-Collective efforts of public representatives, consumers, traders, people and organizations concerned, are crucial for strict enforcement of the Consumers' Right Protection Act (CRPA)-2009 to ensure rights of the consumers.

"As a result of the enforcement of the act, consumers are getting benefits and becoming more aware of their rights to get pure food and other products," Vice-chancellor of Begum Rokeya University, Rangpur (BRUR) Professor Dr. Md. Hasibur Rashid said.

The Vice-chancellor was addressing a seminar on "Consumers' Right Protection Act, 2009'' at the Cafeteria of the university today as chief guest.

Rangpur divisional office of the Directorate of National Consumer Rights Protection (DNCRP) and Begum Rokeya University, Rangpur jointly organised the seminar participated by teachers and students of the university.

Dean of the Faculty of Arts of the university Professor Dr. Abu Saleh Mohammad Wadudur Rahman presided over the event which was moderated by Associate Professor of the Department of Marketing Sheikh Majedul Haque.

Pro-vice-chancellor of the BRUR Professor Dr. Sarifa Salwa Dina and Treasurer Professor Dr. Mojib Uddin Ahamed addressed the seminar as special guests.

Director General (Additional Secretary) of the DNCRP AHM Shafiquzzaman delivered his speech as keynote discussant narrating different aspects of the CRPA, 2009 and steps taken by the government to ensure rights of consumers.

Dr. Hasibur Rashid said consumers and common people have started getting the benefits of the CRPA- 2009 as a result of the inspection of markets by the DNCRP in different parts of the country.

"The seminar arranged at Begum Rokeya University will definitely be helpful in increasing awareness among the students about the CRPA-2009 inspiring them to contribute to ensure rights of the consumers," he said.

He put special importance on enhancing public awareness for strict enforcement of the CRPA-2009, to protect rights of consumers and save public health from food poisoning, other contamination and health hazards.