Blinken says 'the time is now' for Sweden to join NATO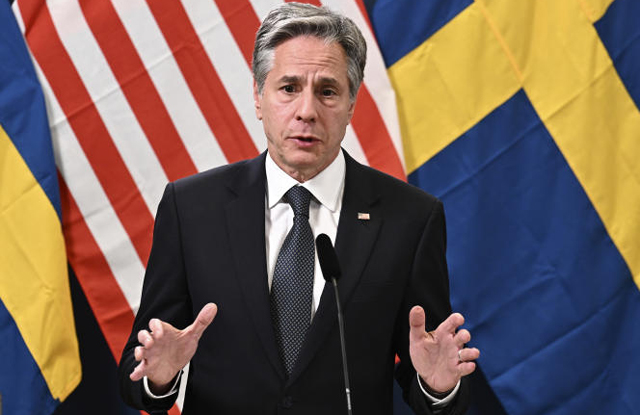 STOCKHOLM, May 31, 2023 (BSS/AFP) - US Secretary of State Antony Blinken on Tuesday called on Turkey's re-elected leader to drop his objections to Sweden's membership in NATO, urging movement on ratification before an alliance summit in July.
Two days after President Recep Tayyip Erdogan won a new term, meaning he will enter his third decade in power, Blinken said on a trip to Sweden that Stockholm had addressed Turkey's concerns over joining the group.
"The time is now to finalise Sweden's accession," Blinken told a news conference with Prime Minister Ulf Kristersson in the northern Swedish city of Lulea.
"We urge both Turkey and Hungary -- which also has not yet ratified -- to ratify the accession as quickly as possible," Blinken said.
"There is no reason for any further time. Sweden is ready now."
"We look forward to this process being completed in the weeks ahead. We have no doubt that it can be and that it should be and we expect it to be," Blinken said, declining to say if the process would be complete before the July 11-12 NATO summit in Vilnius.
Sweden and Finland -- which historically stayed militarily non-aligned to avoid conflict with their giant neighbour -- have both formally sought NATO membership after Russia last year invaded Ukraine, which had tried unsuccessfully to join the alliance and its joint security guarantees.
NATO decisions must be unanimous and Erdogan had used his leverage to press the two Nordic nations on the presence of Kurdish militants, considered by Ankara to be terrorists.
While Finland joined in April, Turkey has yet to give the green light to Sweden -- citing in part a protest in which a far-right activist burned the Islamic holy book the Koran.
Hungary -- whose hard-right government has tense relations with much of the European Union -- has also refused to give its blessing to Sweden although it is largely seen as following Turkey's lead.
Blinken played down any link between Turkey's green light to Sweden and a potential sale of F-16 fighter-jets, though President Joe Biden appeared to draw a link in remarks to reporters after a congratulatory call to Erdogan.