UN nuclear chief encouraged by Russia, Ukraine support of 'principles'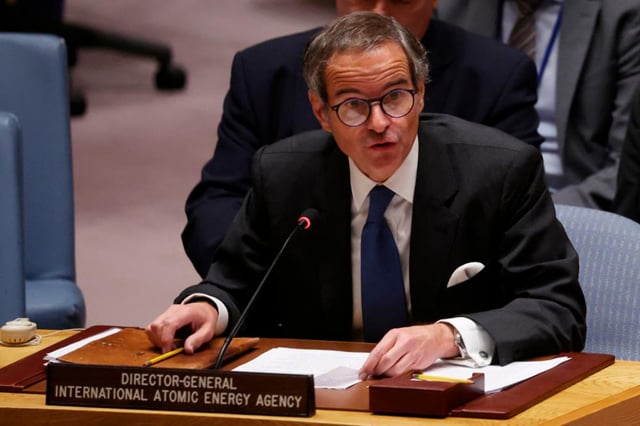 UNITED NATIONS, United States, May 31, 2023 (BSS/AFP) - UN nuclear watchdog chief Rafael Grossi said Tuesday he was encouraged by the reaction of Ukraine and Russia to "concrete principles" laid out by the body to prevent catastrophe at Ukraine's Zaporizhzhia nuclear plant.
The safety of Europe's largest nuclear power facility, located in Ukraine's southeastern region of Zaporizhzhia, has been a concern since Russian forces seized it over a year ago during Moscow's war on its neighbor.
It has been subject to frequent shelling that caused several outages of power that is vital to cooling the plant's reactors.
Ahead of an expected Ukraine counteroffensive, fears have increased that a nuclear disaster could occur amid increased military activity.
Grossi, director general of the International Atomic Energy Agency (IAEA), briefed the UN Security Council in New York on his proposals to ensure the plant's safety after months of negotiations.
"Today constitutes a step in the right direction when it comes to the safety and the security of the Zaporizhzhia nuclear power plant," Grossi told the council.
"We are encouraged by the expressions of support to our work, including on... the five principles that I have established today."
Chief among them, said the diplomat, "there should be no attack of any kind from or against the plant."
Grossi added that Zaporizhzhia "should not be used as storage or a base for heavy weapons," including rocket launchers, tanks or military personnel.
He also said "all efforts should be made to ensure that off-site power remains available and secure at all times."
And he stressed that all structures and components essential to the safe and secure operation of the plant "should be protected from attacks or acts of sabotage."
The IAEA intends to start monitoring the principles on-site, added Grossi, who visited the plant in March.
At a press conference later, he said he was encouraged that the principles were "widely supported and there was no voice opposing them."
The Russian and Ukrainian envoys at the United Nations blamed each other's countries for the crisis at Zaporizhzhia, although they did not reject the principles put forward by the IAEA.
"Mr. Grossi's proposals... are in line with the measures that we've already been implementing for a long time," said Russia's UN Ambassador Vassily Nebenzia, accusing Kyiv and its Western allies of creating "threats" to the plant's safety.
For his part, Ukraine's Ambassador Sergiy Kyslytsya said: "We take note of the director general's principles to help ensure nuclear safety and security" at Zaporizhzhia.
Kyslytsya had sought a "full demilitarization" of the area around the plant but the effort did not advance.
The IAEA's Grossi said he acknowledged the "different approaches" of the two sides.
But "the important thing is that the minimum common denominator, which are these basic five principles, have been widely supported and there was no voice opposing them."
Zaporizhzhia used to supply around 20 percent of Ukraine's electricity and continued to function in the early months of Russia's offensive despite frequent shelling, before halting power production last September.
None of its six Soviet-era reactors has since generated electricity, but the facility remains connected to the Ukrainian power grid for its own needs, notably to cool the reactors.