US suspends Kosovo from exercises after clashes with Serbs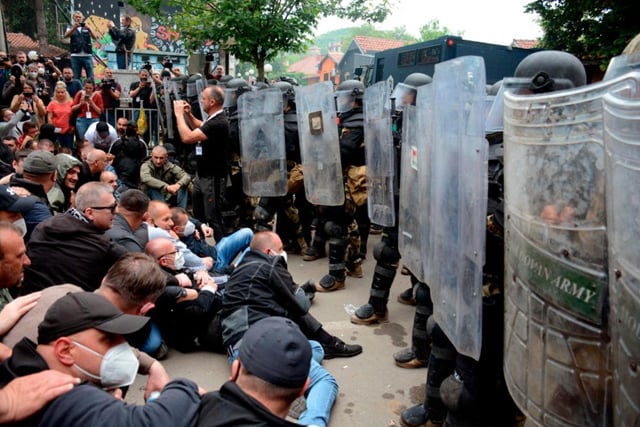 PRISTINA, May 31, 2023 (BSS/AFP) - The United States said Tuesday it was suspending Kosovo from a military exercise in its first sanction over a decision to install ethnic Albanian mayors that sent tensions soaring with the Serb minority.
Western powers that have historically supported Kosovo have urged de-escalation after the move on the mayors, which led to clashes with ethnic Serbs in which 30 NATO-led peacekeepers were injured Monday.
Jeffrey Hovenier, the US ambassador in Pristina, said that Kosovo was being expelled from Defender 23, an exercise from April through June that included more than 20 countries.
"For Kosovo, this exercise is over," Hovenier said in comments to local media in Pristina.
The United States led the NATO operation that forced Serb forces out of Kosovo in 1999 and it has since championed the Albanian-majority territory, backing its 2008 declaration of independence that Belgrade adamantly rejects.
Secretary of State Antony Blinken in a new statement again criticised Prime Minister Albin Kurti for the decision on the mayors, saying it "sharply and unnecessarily escalated tensions".
"We call on all parties to take immediate actions to de-escalate tensions," Blinken said in a statement, condemning the "unacceptable violence" against peacekeepers.
Hovenier threatened an unprecedented move to end diplomatic support and stop lobbying for international recognition of the tiny Balkan territory, whose independence is also opposed by Russia, China and a few European nations.
"You don't find a lot of enthusiasm on the part of the United States to respond to Kosovo's other interests, such as engaging in non-recognisers or working actively to advance Kosovo's European or Euro-Atlantic trajectory," Hovenier said.
The US ambassador added that "the actions taken by the government of Kosovo ... have created this crisis atmosphere in the north".
"We have asked Prime Minister Kurti very directly to take immediate steps to achieve de-escalation in the north. He has not been responsive to those requests," Hovenier said.
The clashes in north Kosovo erupted when the government in Pristina used its police force to try to install ethnic Albanian mayors in northern towns where Serbs make up the majority. Serbs had boycotted local elections.
The situation spiralled out of control after Serbs tried to force their way into a town hall in the northern town of Zvecan, but were repelled by Kosovo police firing tear gas.
The NATO-led peacekeeping force (KFOR) tried to disperse the most violent among the crowd by using shields and batons but were met by a hail of rocks, bottles and Molotov cocktails.
A total of 30 peacekeepers -- 11 Italians and 19 Hungarians -- were wounded in the clashes, according to KFOR.
Among the protesters, 52 were injured, three of them "seriously", while five Serbs were arrested for taking part in the clashes.