Migrant group stuck at Poland-Belarus border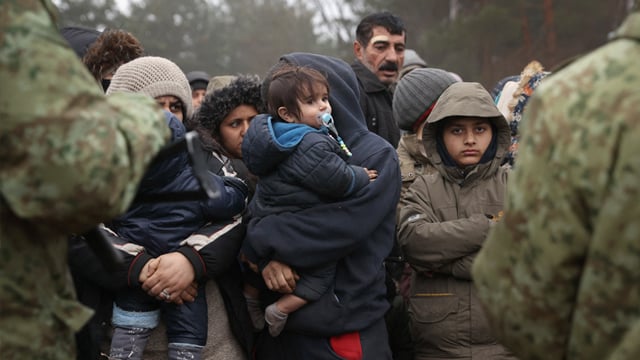 WARSAW, May 30, 2023 (BSS/AFP) - A group of migrants, including women and children, are stuck on Poland's border with Belarus, Poland's border guard said Monday as activists accused the officers of blocking them from seeking asylum.
The group has been forced to camp for four days in the forest near Bialowieza, at the border fence erected by Warsaw to prevent irregular crossings.
In a statement sent to AFP, the Polish border guard said the group of "around 20-30 people" was "outside the jurisdiction" of Poland.
"Therefore any administrative activities, including the possible acceptance of an application for international protection, if the intention of these people is to obtain protection in Poland, is not possible," it added.
According to the activists, the group at the border includes people from Syria, Iraq, and Congo, with 11 children.
"They're certainly very tired, stressed... as they're in a very difficult and uncertain situation," activist Ola Chrzanowska told AFP.
The activists said they had sought to raise the group's spirits and had devised games for the children.
"They can see and feel that they're being treated like human beings, that they matter to someone. That not everyone is indifferent to their fate," Chrzanowska said.
The rights body Grupa Granica claimed that the migrants, despite not having crossed the fence, had already entered Polish territory.
They also warned the migrants were not allowed back into Belarus, with the country's border guards threatening them with dogs, and claimed at least two people had been beaten or injured by officers on the Belarus side.
Chrzanowska said that on Monday, activists filed a request with the European Court of Human Rights for "interim measures" requiring Poland to receive the group's asylum requests.
The Polish border guard -- which has supplied water, food and medication to the migrants -- said it asked the Belarusian side to support the group, but the calls went unanswered.
"They only sent a person documenting the whole situation, certainly to use it for their own propaganda," the statement said.
On Saturday, Poland's deputy ombudsman intervened, issuing an "urgent request for information" about the status of the migrants.