Electricity reaches all 450 villages under Jhalokathi upazila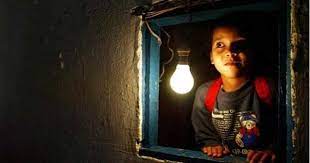 By Akkas Shikder
JHALOKATHI, May 29, 2023 (BSS) – With difficult geographical location, Jhalokathi, a remote southern district, remained out of electricity coverage for a long due mainly to poor communication system.

But now the scenario has changed and the residents of around 450 villages under four upazilas of the coastal district are now enjoying electricity, thanks to the government of Prime Minister Sheikh Hasina for taking steps to bring the district crisscrossed with rivers under electricity coverage.

"We have seen electricity for the first time ever. The area had no power supply. The children are happy and would be able to study at ease. It was very difficult for them to live without electricity. They used to study under the burning torch. We are very much thankful to the government for providing us with electricity connections," said day laborer Md Abdur Razzak Howlader, 40.
He said, "Now we can get electricity by giving deposit money of Taka 400, Taka 1300 for meter and Taka 2100 for buying materials to get electricity connection within seven days of application."
Upazila Nirbahi Officer (UNO) of Kathalia upazila, Md Mizanur Rahman said the people of this region never dreamt of getting electricity connections, but now it has become a reality. The upazila, which is 50 kilometre (KM) away from Jhalakathi zila, celebrated 100 per cent electrification on November 1, 2018. The electricity connection has improved the education system and overall economic condition of the district, he added.
A total of 6 lakh and 82 thousand people have been brought under electricity coverage in the coastal district. Besides REB (Rural Electrification Board), Jhalokathi West Zone Power Distribution Company (WZPDCL) has been providing electrical connection in different villages under Jhalokathi Sadar upazila.
Amal Das, a small entrepreneur of Niamatpur village under the upazila, said the whole village was filled with joy when the first bulb was illuminated here. Since it is a remote region, electricity came to this area almost after 52 years of the country's independence, he added.
Principal of Patikelghata Secondary School Momin Uddin Polash said the electricity has opened new doors of opportunities for the children of the village. Before students used to face a lot of difficulty in attending classes; now, they can learn new things through multimedia classrooms.

Executive engineer of Jhalokathi WZPDCL Md Abdur Rahim said the energy sector has attained remarkable success under the dynamic leadership of Prime Minister Sheikh Hasina. Almost all the houses under the upazila have received electricity connection before Prime Minister Sheikh Hasina made the announcement of bringing the whole population under the electricity network, he added.
Prime Minister Sheikh Hasina announced bringing 100 percent population under electricity coverage as she inaugurated the 1,320 MW Payra Thermal Power Plant, the largest of its kind in the country, he added.
"We are giving electricity connection within the shortest possible time. People are getting the connection within seven days by submitting Taka 400 as deposit money. In some cases, new connections are provided within 3 to 5 days," said Abdur Rahim.
When the Awami League government came to power in 2009, the number of electricity consumers was 60,681. Currently, a total of 1 lakh 91 thousand 706 people under Jhalokathi Zila have been brought under electricity coverage.
General manager of Jhalokathi Palli Bidyut Samity, engineer Emdadul Islam said the employees of Palli Bidyut Samity are working wholeheartedly for providing electricity across the country as the Prime Minister attaches top priority to the energy sector.