Pay wages to labourers in due time: Monnujan Sufian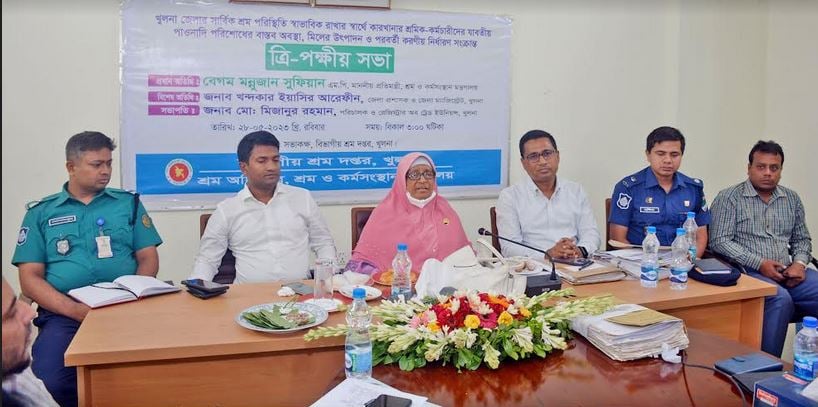 KHULNA, May 29, 2023 (BSS)-State Minister for Labour and Employment Begum Monnujan Sufian has said the owners' responsibility is to pay wages to the workers in due time.

"Both the owners and labourers will solve any problem of mill-factories through discussion," she made the remarks while speaking at a tripartite meeting at Khulna Divisional Labour Office here yesterday as chief guest.

Directorate of Labour in Khulna Division organized the meeting aiming to the real situation of paying salary and dues for the interest of smooth production of mill-factories regarding determination of further action.

"Livelihood of the labourers will be developed and production will be increased if they (labourers) are being paid the wages in due time," she said.

Turning the present government as labourer friendly and said it has been working tirelessly to develop their livelihhod, the minister added. She also asked the owners to reopen their mill factories after paying the arrear wages of the labourers.

Chaired by the Director of the local Directorate of Labour, Additional Commissioner of KMP Md Moshfequr Rahman, Additional Deputy Commissioner (LA) of Khulna Atiqul Islam, Additional Superintendent of Police Md Hafizur Rahman and Deputy Inspector General of the Directorate of Mill-Factories and Organisations Inspection Dr Nabeen Kumar Howlader addressed as special guests.

Owners of different private mill-factories, leaders of laboresrs unions and government officials joined the meeting.