Amazon scientists simulate how warming may impact jungle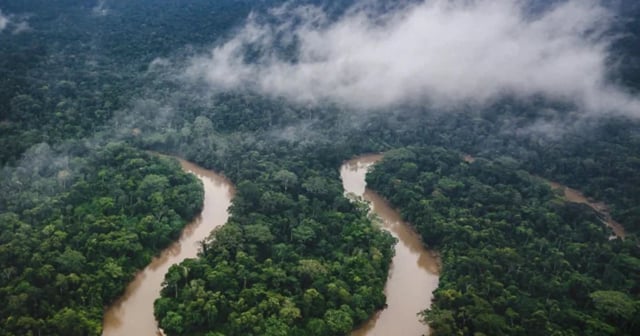 MANAUS, Brazil, May 27, 2023 (BSS/AFP) - Deep in the Amazon, an experiment
unfolds that may allow a peek into the future to see what will happen to the
world's largest rainforest when carbon dioxide levels rise.
It is a simulation to see how the lungs of the world will endure global
warming.
The AmazonFACE project, co-financed by Brazil and the United Kingdom, is "an
open-air laboratory that will allow us to understand how the rainforest will
behave in future climate change scenarios," says Carlos Quesada, one of the
project coordinators.
Quesada stands at the foot of a soaring metal tower that protrudes through
the rainforest canopy at a site 50 miles (80 kilometers) north of Manaus in
northwest Brazil.
Sixteen other towers arranged in a circle around it will "pump" CO2 into the
ring, replicating levels that may happen with global warming.
"How will the rainforest react to the rising temperature, the reduction in
water availability, in a world with more carbon in the atmosphere?" asks
Quesada, a researcher at an Amazon research institute that is part of the
Brazilian Ministry of Science and Technology.
- 'Window to the future' -
The technology known as FACE (Free Air CO2 Enrichment) has already been used
to study the impact on forests in Australia, the United States and the United
Kingdom, but never in a tropical rainforest.
By 2024, there will be six "carbon rings" pumping CO2 -- one of the causes of
global warming -- at a concentration 40 percent to 50 percent higher than
today.
Over a decade, researchers will analyze the processes occurring in leaves,
roots, soil, water and nutrient cycles.
"We will have more accurate projections on how the Amazon rainforest can help
combat climate change with its ability to absorb carbon from the atmosphere.
Also, it will help us understand how the rainforest will be impacted by these
changes," says David Lapola, a researcher at the University of Campinas, who
coordinates the project with Quesada.
The carbon increase in the atmosphere may lead to creation of grassy plains,
or savanna, where Amazon rainforest once flourished, with vegetation better
adapted to higher temperatures and longer droughts.
But CO2 could also "fertilize" the forest and make it temporarily more
resistant to these changes.
"This is a positive scenario, at least for a short time, a period for us to
get to zero emission policies, to keep temperature increases to only 1.5
degrees Centigrade," Quesada says.
The project "is a window to the future. You open the window and look at what
might be happening 30 years ahead," he says.
The UN's Intergovernmental Panel on Climate Change (IPCC) urged ambitious
action to counter global warming again this year.
According to its latest March report, global warming will surpass 1.5 degrees
Celsius in the decades after 2030, leading to irreversible loss of
ecosystems.
Coinciding with global warming is the impact of human-caused deforestation in
the Amazon.
A landmark 2018 study by scientists Thomas Lovejoy and Carlos Nobre found
that the Amazon is hurtling toward a tipping point where savannas begin to
replace rainforest.
They said that would happen with deforestation of 20 to 25 percent of Amazon
territory. Currently, deforestation stands at 15 percent.
- UK-Brazil cooperation -
AmazonFACE, coordinated by University of Campinas and the Brazilian Ministry
of Science, has the support of the Foreign Office and the British
Meteorological Service (MET office).
British Foreign Secretary James Cleverly visited the facilities this week and
announced a new contribution of 2 million pounds (US$2.4 million) to the
project, which since 2021 has already received 7.3 million pounds from the
United Kingdom.
Brazil, for its part, has invested 32 million reais (US$6.4 million).