Hungary blasts EU rotating presidency challenge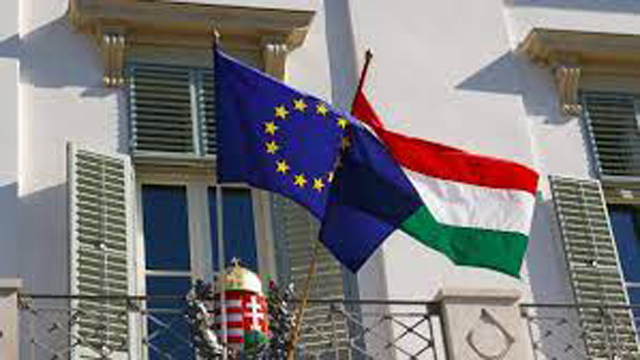 BUDAPEST, May 26, 2023 (BSS/AFP) - Hungary denounced Thursday a coming vote on a European Parliament draft resolution that alleges Budapest is unfit to assume the EU's rotating presidency next year over its rule-of-law record.
The resolution "questions... how Hungary is able to fulfil this task credibly in 2024 in view of incompliance with EU law and (EU) values".
It asks member states to "find a proper solution as soon as possible" to avoid having Hungary take over the six-month presidency as scheduled in the second half of next year.
MEPs are slated to vote June 1 on the resolution proposed by five European Parliament groups -- the conservative EPP, the S&D (socialist), Renew (liberal), the Greens and GUE/NGL (far left).
Hungarian Justice Minister Judit Varga slammed the move as an "anti-Hungarian initiative".
"Let's be clear, the EU presidency is not a right, but an obligation," she said in a Facebook post. "What we promised, we will perform with integrity, no one can take that away from us."
Earlier, Prime Minister Viktor Orban's chief of staff Gergely Gulyas said "there is no legal possibility for the EU" to block Hungary from assuming the presidency.
"If the European Parliament makes such a decision, it is as binding as if the Azeri parliament made one," Gulyas told reporters in Budapest.
But German Green MEP Daniel Freund, a vocal critic of Orban's, said that "I don't think that Orban deserves that stage", calling the Hungarian leader an "autocrat".
"He doesn't respect our values, he doesn't respect our democracy," Freund said on Twitter, adding that the Parliament could "refuse to interact" with the scheduled Hungarian presidency.
"Giving (Orban) the presidency while there is a war in Ukraine, basically giving Putin's best friend the presidency, I think there is a security risk for the EU," he said.
Since Russia's invasion of Ukraine, Orban has refused to send military aid to Kyiv, while opposing the EU's anti-Russia sanctions and maintaining links with the Kremlin.
Since coming into power, the 59-year-old nationalist has regularly clashed with Brussels over issues from media and judicial independence to migration and LGBTQ rights.
The EU has frozen billions of euros in the bloc's funding for Budapest over rule-of-law and corruption concerns.