Teachers, community leaders vow to achieve recognition of 1971 genocide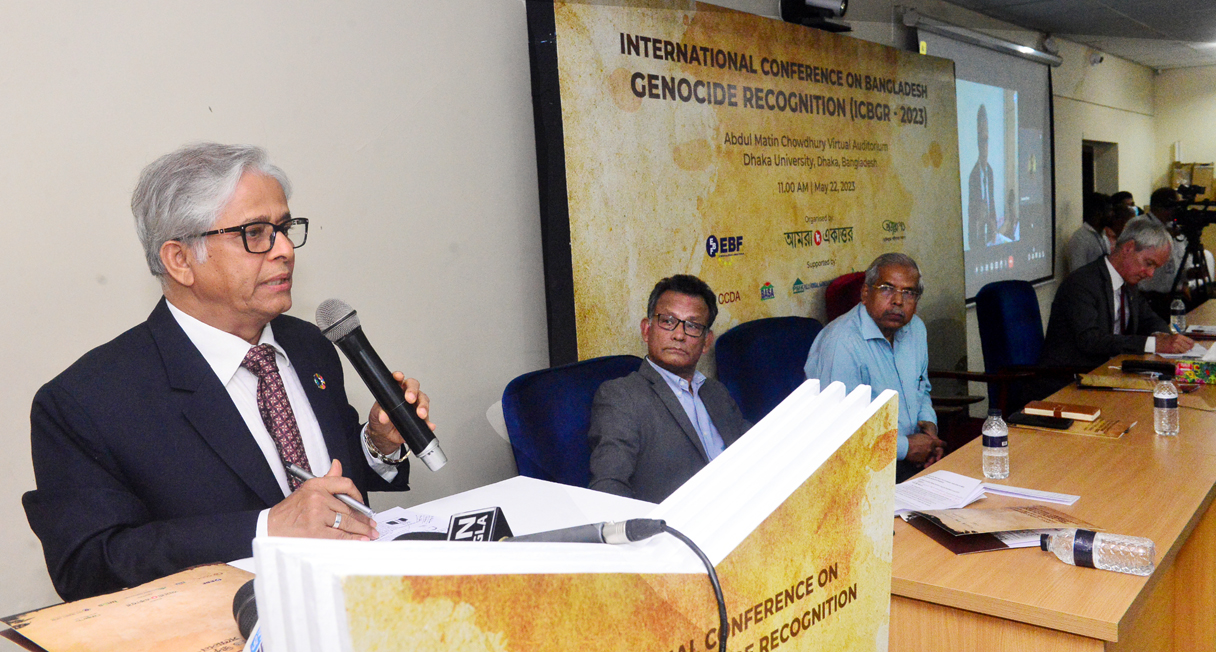 DHAKA, May 22, 2023 (BSS) - University teachers, researchers, cultural activists and community leaders today at an international conference expressed their firm determination to work relentlessly until the global recognition of the Genocide, which occurred in the country by the Pakistani army in 1971, is achieved.
They expressed their determination at an international conference titled 'International Conference on Bangladesh Genocide Recognition', Organised by Amra Ekattor, Projonmo 71 and European Bangladesh Forum at Dhaka University's Abdul Matin Chowdhury virtual classroom.

While addressing DU vice chancellor Dr Md Aktaruzzaman said during the Liberation War of Bangladesh, the University of Dhaka was the epicentre of genocide and the students and teachers of the university were the first victims of genocide.

Greeting the organisers and contributors of the conference, he sincerely pledged that the University of Dhaka will always stand with them and cooperate for achieving recognition of the 1971 genocide.
European Bangladesh Forum (EBF) President Bikash Chawdury Barua expressed firm determination to continue efforts to draw the attention of the world community about the genocide and to stand with the victims of atrocities conducted by the Pakistani army during the Liberation War of Bangladesh in 1971.

Genocide researcher and founding secretary of Projonmo 71 Tawheed Reza Noor said Projonmo 71 is working to achieve recognition of the genocide and ensure justice.

"According to the 1948 genocide conversation, genocide means destroying, harming and distorting a targeted group of people or community with a systematic plan. And the genocide conducted by Pakistani military forces during the Liberation War of Bangladesh was planned killings of Bengali people, said Pradip Kumar Dutta , a genocide researcher.

Ekattorer Ghatok Dalal Nirmul Committee president Shahriar Kabir, Former Dutch MP and human rights activist Harry Van Bommel, Trustee of Liberation War Museum Mofidul Haq, Communication director of Swiss inter-strategy group Chris Blackburn, and Lieutenant colonel Birpratik Sazzad Zahir also addressed the conference, among others.