76th 'World Health Assembly' kicks off Tomorrow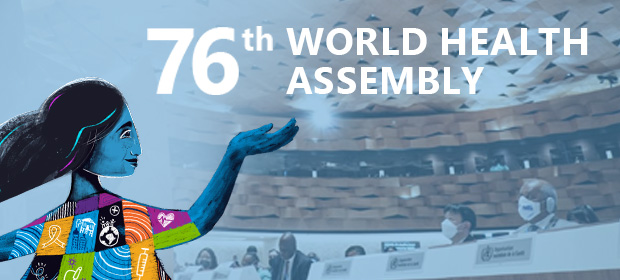 DHAKA, May 21, 2021 (BSS) - The 76th World Health Assembly (WHA) started in
Geneva, Switzerland today where Bangladesh delegation led by Health Minister
Zahid Maleque would emphasize on primary health care.
This year's theme of the assembly is "WHO at 75: Saving lives, driving health
for all" which motto is "Health for All".
Pointing out this year's WHA is very important for Bangladesh, the minister
said:"The significance of this session is slightly different. The
organisation would take the opportunity to review public health progress over 75
years to look back at how much progress has been made and how much living
standards have improved over the past seven decades."
"So, primary health care issues would be more emphasized this year," the
minister told BSS.
Along with strengthening primary health care in 2023, there is also a strong
focus on ensuring urgent health care for people around the world. The World
Health Organization (WHO) has taken steps to help millions of people facing
emergencies and has appealed to the United Nations for US$2.5 billion to
ensure emergency health care for people around the world.
Among these emergencies, the corona pandemic and the overlapping outbreaks of
deadly diseases such as measles and cholera have highlighted as those are the
massive threats to health systems. A record of 339 million people, nearly
more than in 2022, in the worldwide would need emergency assistance this
year, according to the United Nations.
According to the health experts, right to health is a fundamental part of our human
rights. The conference will play a vital role in helping to formulate
policies for the country in the implementation of an integrated health system
to ensure the health of the entire population with emphasis on public health,
they added.
The conference should also ensure continued dialogue among world leaders and
sustainable approaches to strengthening primary health care in order to
secure health for all, the health experts opined.
"However, the goal of primary health care is prevention crucial, as it is not cureable,that's why the elimination of infectious diseases from large populations through promotion of healthy lifestyles, disease prevention research and detection of infectious diseases are important," Health Minister Zahid Maleque said.
"Primary health care plays an important role in health protection including
reducing the incidence and prevalence of neonatal diseases, infant mortality,
establishing a healthy environment, enhancing individual self-care and self-
management skills, prioritizing health services for at-risk communities,
mitigating preventable health risk factors," he added.
Clinical psychologist, Chairman of Souchna Foundation and National Advisory
Committee on Autism in Bangladesh Saima Wazed is scheduled to attend a session
of mental health at the conference.
Anwar Hossain Howlader, additional secretary of Health Care Department.
Saidur Rahman, Director General of the Department of Health Education
Professor Dr Md Titu Mia, Director General of the Department of Health
Services Professor Dr Ahmedul Kabir will be present, among others.
The conference would be concluded on May 30.