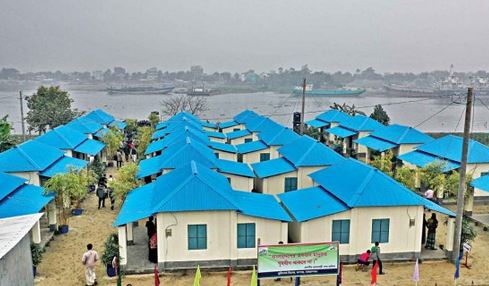 By Syed Shukur Ali Shuvo
DHAKA, May 20, 2023 (BSS) – Realising the sufferings of the homeless marginal and ultra-poor people, Prime Minister Sheikh Hasina, after comingto power in 1996, envisioned the Ashrayan project for rehabilitation of the millions.

"In all shabby weatherparticularly during monsoon and winter, we had to face unbound sufferings,as I virtually lived underthe open sky," according to Monira Begum, one of the beneficiaries of the Prime Minister's Ashrayan Project.
Now, smiles glowed on Monira's face after receiving her dream home at Lakshmipur district, about 190 km from capital Dhaka.
Like Monira, a small piece of land and home on it has made thousands of shelter-less people happy as they got it as 'gift', free of cost from the Prime Minister.
"Ashrayan project has changed the lifestyle of my family, as the home provided me with the sourcesof livelihood and creating some other facilities as well like water supply, hygiene and sanitation," according to Monira.
In rural Bangladesh, thousands of people, since country's independence, used to live floating from one place to another to sustain their lives. They had no permanent address.
"After 50 years of independence we have got our permanent address at Prime Minister Sheikh Hasina's noble gesture," Monira observed.
The Ashrayan project- home for the homeless- is seen as a "Sheikh Hasina Model" for inclusive development. So far, around 10 lakh families received such homes across the country, giving shelter to more than 3.5 million people.
According to the officials, in the first phase of their project, a total of 63,999 houses were distributed among poor while 53,330 houses were given in the second phase and 59,133 houses in the third phase.
With the success of the Ashrayan Project-1 the government initiated for the Ashrayan Project-2. And under the project, a total of 39365 houses have so far been allocated among poor, bring their total number of houses to 2,15,827.
In 1972 after independence, Father of the Nation Bangabandhu Sheikh Mujibur Rahman had initiated the programme for housing of the poor. But, after his brutal murder in 1975, the rulers kept the programme in abeyance, leading to increase the number of homeless people due to river erosion and other natural disasters.
So, the Ashrayan Project, envisaged by Sheikh Hasina was just reinforcement of the footprint of Bangabandhu for welfare of the toiling messes.
Under the Ashrayan projects the government has rehabilitated 5,54,597 families and out of them 2,16,704 families were rehabilitated in different programmes under various ministries.
Through contributing the shelter to ultra-poor, the Prime Minister has boosted up the confidence of the downtrodden people to live with their basic rights of shelter, alleviate their poverty and live in the society with dignity.
Of course, after getting their homes, the beneficiaries would expresstheir gratitude to Prime Minister Sheikh Hasina for making their dream true and lives meaningful.
Under their project, their prime minister handed-over the deeds of the two-decimal land and keys of the two-room home with separate kitchen and veranda to the beneficiaries.
The Ashrayan project is a life-changinginitiative of the government for welfare of the country's poor who can now dream for a new life.
Amena Begum, a 49-year-old of the district narrated BSS about her long sufferings with sick and physically challenged children.
Amena used to work as a maidservant from house to house,keeping her children unsafe in a makeshift slum. Now, she has a shelter in the Ashrayan project.
Pramila Karmakar married RanjitKarmakar30 years back and had beenliving in a rented house. The couple, day labourers by profession, has given marriage their three daughters, but could not arrange their own home in their struggling life.
"When my sons-in-law came to my house I could not provide them a place to sit. Now, I am very happy as I'm owner of a home," Pramila said.
A 42-year-old Arefin from Dolnarchar of Daudkandi said, "I never imagined that I would have a permanent house on my own land."
Arefin planted vegetables and fruity trees around his house, attracting attention of local people.
He also runs a shop in a corner of the house and lives with his only daughter and mother.
"I loved this home very much and after coming here I did not even go anywhere for a moment, Arefin said as tears rolled down his cheek.
Daudkandi Upazila Parishad chairman Muhammad Ali Sumon told BSS that every human being has a fundamental right to have access to their housing. Ashrayan project is a real manifestation of realizing the rights of the people.
Many underprivileged people, including transgender, tea garden worker, leprosy patients have found their shelter in the Ashrayan project in his area, the chairman said, extending gratitude to the Prime Minister and her government for taking this great reformative initiative.
Daudkandi Upazila Nirbahi Officer (UNO) Mohinul Hasan recalled the prime minister's announcement on the occasion of the Mujib Barsha, saying they are working to ensure that none would be left without home in the country.
Under the Ashrayan project a total of 487 homeless people were enlisted in Daudkandi Upazila and out of them 300 houses were already handed over. The remaining houses would be allocated in the month of June, the UNO said.