Greenpeace says Russian decision to outlaw it 'absurd'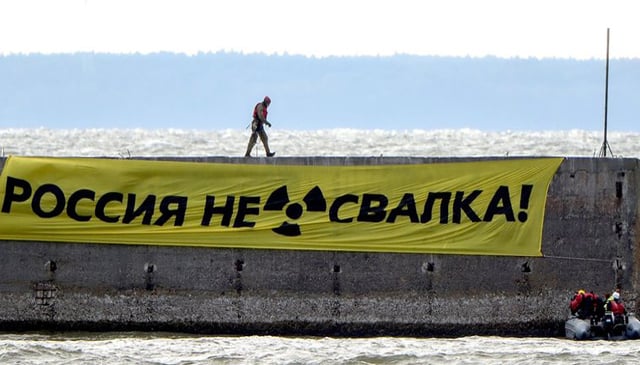 MOSCOW, May 20, 2023 (BSS/AFP) - Climate advocacy group Greenpeace on Friday criticised Russia's decision to label it an undesirable organisation, which criminalises its work, as absurd and destructive.
Russia on Friday branded Greenpeace an undesirable organisation, accusing it of anti-Moscow propaganda and attempting to "change power in the country".
The designation also puts the group's staff at risk of prosecution.
"The liquidation of Greenpeace in Russia -- this is an absurd, irresponsible and destructive step that has nothing to do with the protection of the country's interests," Greepeace said on its Russian website.
The organisation said it believed the decision was "due precisely to the fact that we tried to prevent the implementation of plans that destroy nature, and in many cases successfully so."
Greenpeace cited a long list of projects that it carried out, including for the protection of the Baikal, the world's largest and deepest freshwater lake.
"Every year our employees and volunteers saved forests and peatland from fire," Greepeace also said.
The Office of the General Prosecutor had said the climate advocacy group posed "a threat to the foundations of the constitutional order and security" of the country.
Since the start of Russia's military offensive in Ukraine, Greenpeace activists have been engaged in "anti-Russian propaganda" and called for Russia's economic isolation, the statement said.
Greenpeace's efforts have been "aimed at destabilising the socio-political situation and attempting to change power in the country in an unconstitutional way," the Office of the General Prosecutor said.
"The environmental activities of Greenpeace are in fact accompanied by the active promotion of a political position, attempts to interfere in the internal affairs of the state and are aimed at undermining its economic foundations," the statement said.
Authorities are taking the crackdown on freedoms in Russia to an unprecedented level over a year into Moscow's assault on Ukraine, with independent media and rights groups shut down and most key opposition figures behind bars or in exile.
In March, the justice ministry labelled the World Wildlife Fund a "foreign agent."
The "foreign agent" label has Soviet-era connotations and has been widely used against Kremlin critics.
The designation is however less harsh than the "undesirable organisation" tag and allows bodies to continue operations in the country.