Australia settles lawsuit over military base contaminations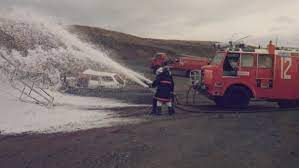 SYDNEY, May 15, 2023 (BSS/AFP) - Australia's government settled a class action lawsuit on Monday over claims that toxic firefighting chemicals used at several military bases had leaked into groundwater and the surrounding land.
The lawsuit sought Aus$132.7 million (US$88 million) in compensation for around 30,000 people, alleging that PFAS chemicals used in firefighting foam had contaminated land around the bases and decreased property values.
Commonly known as "forever chemicals" because they disintegrate extremely slowly, PFAS -- or per- and polyfluoroalkyl substances -- are found in products ranging from waterproof textiles to toilet paper.
Research has revealed possible links between the chemicals and severe health problems, including changes in metabolism, impacts on fertility and increased cancer risks, according to the US National Institute of Environmental Health Sciences.
"People have, across a range of communities, suffered from the use of this," Prime Minister Anthony Albanese told media in Adelaide.
"The biggest concern that I have with PFAS isn't, of course, a financial one, it is the health outcomes of people who are affected by it."
The legal settlement, which is confidential, did not contain an admission of liability from the government.
The agreement still has to be approved by a Federal Court judge, but lawyers for the class action said that it was a good outcome.
"The settlement money, if approved, will go some way to compensate the seven communities in this class action for their losses," Craig Allsopp from Shine Lawyers said.
"However, many are still stuck on contaminated land."
The chemicals were widely used in Australia since the 1970s, but have largely been phased out, according to the government.
The country settled a similar claim in 2020 related to other military sites.