Physicians welcome inclusion of meditation in health service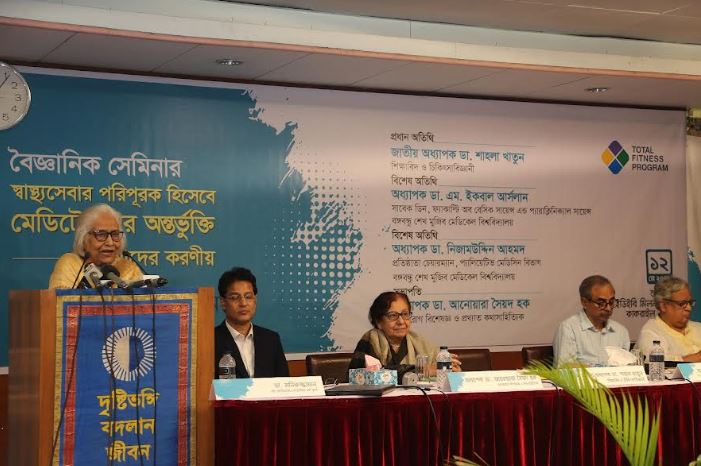 DHAKA, May 12, 2023 (BSS) - The country's renown physicians have welcomed the government's initiative to include meditation in the medical treatment as an alternative treatment and opined that it will likely reduce health expenditure.
They called upon the authorities concerned to include meditation in both education and medical curriculum to help people lead a healthy life, according to a press release issued here today.

The physicians were sharing their views during a scientific seminar on 'inclusion of meditation as alternative treatment: our responsibility'' organised by Quantum Foundation at IDEB Bhaban on Friday, the release said.

National Professor Dr Shahla Khatun attended the seminar as chief guest while former Dean of the Faculty of Basic Science and Paraclinical Science of Bangabandhu Sheikh Mujib Medical University (BSMMU) Professor Dr M Iqbal Arslan and founder Chairman of Palliative Care Department in BSMMU Professor Dr Nizamuddin Ahmed were present as special guests.

Chaired by renowned mental health specialist and writer Anwara Syed Haq, the seminar was attended by around 400 physicians of public and private hospitals.

Quantum Heart Club Coordinator Dr Muniruzzaman presented the keynote paper in the seminar.

The guests also unveiled a magazine titled 'Meditation in physicians' prescription'.
The National Professor said gradual improvement in medical science finds possibility of gene regulation and expressed her view that meditation can help in this connection.
Dr M Iqbal Arslan highlighted impact of meditation in health economy and said government's significant budget spending for health could be reduced through practicing meditation.
In this connection, the former dean said inclusion of meditation in social science of education curriculum can help young generation to lead healthy life from early stage.

The speakers also considered the Health Directorate's decision to include meditation part of health service a timely and epoch-making one.
The speakers said meditation is now recognized as a part of health service worldwide because of its proven roles in healing, preventing and relieving diseases including stress, anxiety, insomnia, high blood pressure.

According to scientists, meditation is an exercise of brain as it works to reorganize and active the brain just like jogging does in increasing muscle strength and swimming in the biceps strength.


The special guests also expressed belief that Yoga-meditation plays an effective role in becoming fit physically, mentally, socially and spiritually.

The Ministry of Health and Family Planning took meditation into an account as alternative treatment to problems like hypertension, depression, stress, insomnia, high blood pressure, heart and stroke related complication in last December.

The Directorate of Health has already directed concerned departments through an official letter recently to take measures for creating awareness to all concerned.