First campaign of Bangabandhu Innovation Grant-2023 held at DU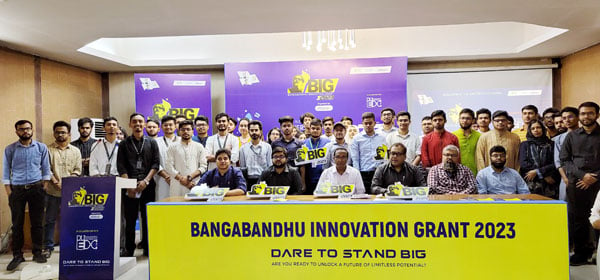 DHAKA, April 6, 2023 (BSS) - The first activation campaign of the Bangabandhu Innovation Grant-2023 was held at the Institute of Modern Language Auditorium on Dhaka University campus today.
The Innovation Design and Entrepreneurship Academy (iDEA) Project of Bangladesh Computer Council (BCC) under the ICT Division in association with DU Entrepreneurship Development Club (DUEDC) organised the campaign with iDEA Project Director and Joint Secretary Md Altaf Hossain in the chair, said a press release.
Associate Professor of DU Marketing Department Dr Rafiuddin Ahmed was present at the function while Senior Consultant of iDEA project and BIG 2023 Chief Coordinator Siddhartho Goshwami gave a presentation on BIG 2023.
Speaking on the occasion, Altaf Hossain highlighted different activities of the iDEA project, saying that the project is playing a significant role in Bangladesh's journey towards being a smart Bangladesh by 2041.
Noting that the iDEA has been conducting campaigns across the country to assist the entrepreneurs, he said Apart from providing grants, iDEA project provides support through mentoring, training, networking and more.
In his speech, Dr Rafiuddin Ahmed encouraged youth entrepreneurs to come up with innovative initiatives and said startups fail due to the lack of efficient management.
He also said that Bangladesh has seen an incredible rise in the number of entrepreneurs recently, which was not seen in the previous 50 years.
iDEA Project Communications Consultant and Associate Coordinator of BIG 2023 Sohag Chandra Das, Consultant and BIG 2023 Technology Associate Coordinator Abul Kalam Ahsanul Azad and Consultant of IT Help and Support Md Mominul Islam were present were present at the event, among others.
With the theme 'Dare to Stand BIG', the biggest initiative "BIG" is being organised for the country's entrepreneurs since 2019 by the Innovation Design and Entrepreneurship Academy (iDEA) Project of Bangladesh Computer Council (BCC) under the ICT Division.

The aspirant entrepreneurs can apply online (www.big.gov.bd) for their ICT based initiatives by April 22, 2023.
A 3-day bootcamp will be organized with the selected top startups. The top 51 startups of "BIG 2023" will be selected from the most promising startups of the bootcamp while a selection panel consisting of experienced judges will select the best startup and it will be awarded a grant of Taka 1 core.
The rest of the 50 startups will receive a grant of Taka 10 lakh each. Besides, there are different opportunities for startups in BIG 2023 including investment, special certificates of appreciation, and mentoring.