Protesters face off in Kyiv as clergyman's home raided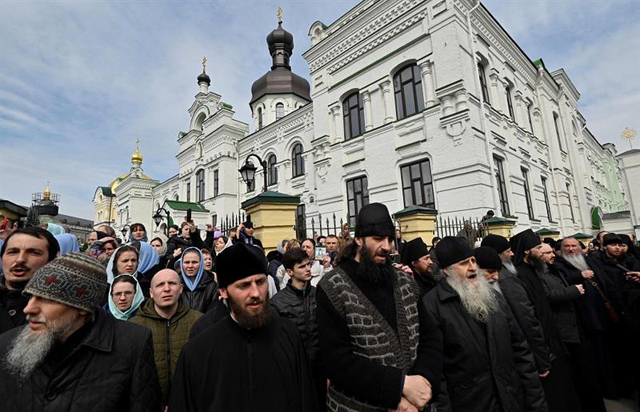 KYIV, Ukraine, April 2, 2023 (BSS/AFP) - Protesters faced off outside a historic monastery in the Ukrainian capital on Saturday after the home of a leading clergyman was raided by the security services.
Metropolitan Pavlo of the Ukrainian Orthodox Church, which has been accused of links with Moscow despite renouncing them, was called in for questioning on charges of inciting religious hatred.
The SBU security service said Pavlo is suspected of "justifying and denying the aggression by the Russian army against Ukraine and of glorifying its members" as well as "violating the equality of citizens on racial, national, regional and religious grounds".
"The law and the responsibility for violating it are the same for everyone and a cassock is no guarantee of pure intentions," SBU chief Vasyl Maliuk said in a statement, accusing Russia of using religion "to promote propaganda and divide Ukrainian society".
The SBU said it had raided the home of Pavlo, who was later taken to court for a hearing to decide whether or not he should be detained, an AFP reporter saw.
The hearing was initially adjourned as Pavlo complained of health issues but later resumed, with the court ordering a 60-day house arrest.
He will have to wear an electronic surveillance device and "refrain from communicating with witnesses" as the inquiry continues, it said.
- Eviction threat -
The development comes three days after the expiry of a deadline for an eviction order from Ukrainian authorities for the monks of the Ukrainian Orthodox Church who live in a part of the Kyiv-Pechersk Lavra monastery.
The monks have said they will stay as long as possible at the site, an ancient golden-domed complex overlooking the Dnipro River that is the country's most significant Orthodox monastery.
Dozens of Church supporters, including clergymen, could be seen outside the monastery on Saturday, waving religious symbols and praying in front of a small group of opponents.
The Pechersk monastery and other Church premises were raided last year by security services over suspected links to Russian agents.
The country also has an Orthodox Church of Ukraine, a separate institution that is entirely independent from Moscow.
In a video statement broadcast by Ukrainian media earlier on Saturday, Pavlo denied supporting the Russian invasion.
"They say I support the aggression of Russia against Ukraine. I have said, I say and I will say: I condemn all attacks on our state and what Russia and (President Vladimir) Putin have done is unjustifiable," he said.