None will be allowed to do cheap, destructive politics: Shahriar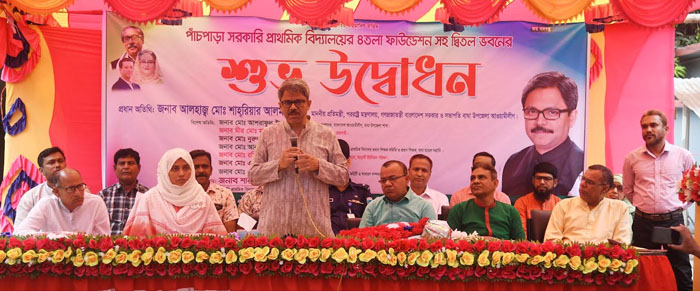 RAJSHAHI, April 1, 2023 (BSS) - State Minister for Foreign Affairs Shahriar Alam, MP, has said none will be allowed to do cheap and destructive politics for the sake of continuing the pace of the present development process.
"The present government under the dynamic leadership of Prime Minister Sheikh Hasina has been working relentlessly for the overall development of the country. So, none has the right to hinder the development activities," he added.
State Minister Shahriar Alam made the observation while inaugurating the newly constructed second floor of Punchpara Government Primary School at Arani village under Bagha Upazila of the district as chief guest today.
Upazila Nirbahi Officer Sharmin Akhter, Agriculture Officer Shafiullah Sultan, Education Officer Meer Mamunur Rahman, school teachers Sanaur Rahman, Anjarul Islam and Union Parishad Chairman Rafiqul Islam also spoke on the occasion.
The state minister called for quality education to build a smart Bangladesh as Prime Minister Sheikh Hasina has been working to this end.

"Digital Bangladesh has already been built and time has come to build Smart Bangladesh with the prudent and farsighted leadership of the Premier," he said.
Shahriar Alam urged the teachers to build the students with smart mentality as they will be the key-players for building smart Bangladesh.

He told the ceremony that the government has been providing computers and multimedia projectors to the entire primary, secondary and higher secondary educational institutions free of cost.

"We've no time to look backward rather we have to look forward as the present Bangladesh has been marching forward vibrantly," he added.

"Smart Bangladesh could be possible if cherished progress is achieved in the field of industries, factories, trade, business, health, education and agriculture," he said, adding that 26,000 academic buildings were constructed in addition to appointing 36,000 teachers since Prime Minister Sheikh Hasina came to power.

Shahriar Alam mentioned that Prime Minister Sheikh Hasina wants to build a happy, prosperous and non-communal Bangladesh through building Smart Bangladesh.