BSS journo Maloy's father Mohim Ranjan dies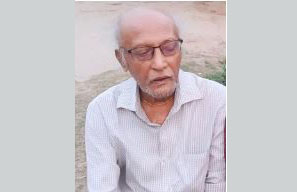 DHAKA, April 1, 2023 (BSS) - Mohim Ranjan Dutta, father of Bangladesh Sangbad Sangstha (BSS) Senior Reporter Maloy Kumar Dutta, died today while undergoing treatment at a hospital in Kushtia.
Mohim breathed his last around 4:30pm at Kushtia General Hospital at the age of 75, his family sources said.

He left behind his wife, a son, a daughter and a host of relatives and admirers to mourn his death.
Mohim will be cremated at Kumarkhali Moha Shashan (crematorium) in Kushtia tonight.