Mexico detains migrant accused of starting fire that killed 39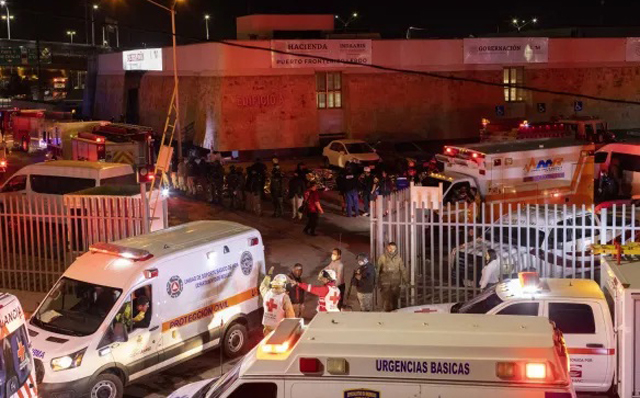 MEXICO CITY, April, 1, 2023 (BSS/AFP) - Mexican prosecutors said Friday that they had arrested a migrant accused of starting a fire that killed 39 people at an immigration detention center near the US border.
Three immigration officials and a private security guard have also been detained as part of a homicide investigation into the blaze that started on Monday night.
Authorities have accused the people in charge of the facility in Ciudad Juarez of doing nothing to evacuate the detainees.
An arrest warrant was outstanding for another guard wanted in connection with the tragedy, Sara Irene Herrerias, a prosecutor specializing in human rights, told a news conference.
She did not identify the migrant accused of starting the fire in a cell where he was being held with 67 other men, apparently in a protest against deportations.
According to the authorities, the deceased were 18 Guatemalans, seven Salvadorans, seven Venezuelans, six Hondurans and one Colombian.
The injured were 10 Guatemalans, eight Hondurans, five Salvadorans and five Venezuelans.
Video surveillance footage appeared to show guards leaving the detainees locked inside as flames spread and smoke filled the room.
The detention center has now been closed, Security Minister Rosa Icela Rodriguez said.
President Andres Manuel Lopez Obrador, who has vowed there would be "no impunity" over the disaster, traveled to Ciudad Juarez on Friday to see the medical treatment given to the injured.
Several remained in serious condition, some on mechanical ventilators, the Ciudad Juarez General Hospital said.
One man had four fingers amputated, it said.
Dozens of migrants protested outside a school in the city where Lopez Obrador held meetings, saying that they felt criminalized for seeking a better future in the United States.
"We're not criminals. We fled our countries as a result of bad policies," a man complained over a microphone.
Earlier Friday at his daily news conference in Mexico City, Lopez Obrador repeated his previous demands for the United States to invest more in Latin America so that migrants do not feel the need to leave their countries.
Washington's investment in Central America paled in comparison to the billions of dollars that it has allocated in military aid for Ukraine following the Russian invasion, he said.