'Significant damage' after tornado hits Arkansas: governor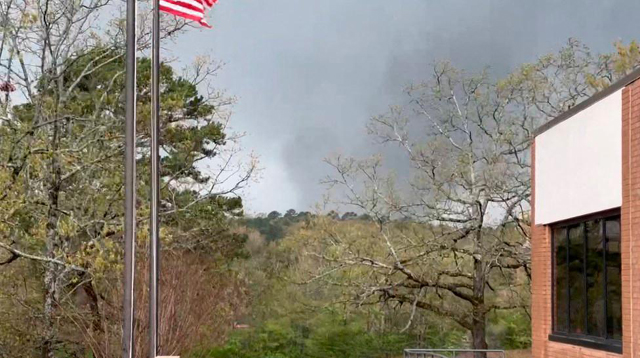 WASHINGTON, April 01, 2023 BSS/AFP) - A large tornado tore through Arkansas on Friday causing "significant damage," the governor of the southern US state tweeted, as rescuers rushed to aid residents and hospitals said they were bracing for casualties.
Governor Sarah Huckabee Sanders wrote that police and emergency services were working to "assist anyone injured," and called for residents to stay aware as the National Weather Service forecast more storms later in the afternoon.
"Significant damage has occurred in Central Arkansas," Sanders wrote.
The New York Times reported that the tornado had touched down near the state capital, Little Rock, and had torn down trees and damaged houses. More than 70,000 people were without power across the state, according to Poweroutage.us.
The city's mayor, Frank Scott, tweeted that the storm had been "devastating" and said he had asked Sanders' office to send National Guards to help with cleanup.
The governor's office could not immediately confirm any casualties to AFP, but a local hospital told the Arkansas Democrat-Gazette that it had already begun to receive patients, including "a few" in critical condition.
The spokesperson for the Baptist Health hospital said it was preparing to treat injuries, the newspaper reported.
The University of Arkansas hospital was also on standby, a spokesperson there told AFP.
"We haven't seen people come in quite yet but we know that emergency services have had trouble reaching people because of downed trees," the spokesperson said.
"We expect people to come throughout the night."
Tornadoes are common in the United States, especially in the center and south of the country.
A week ago, a tornado swept through Rolling Fork, a small town in Mississippi, killing 13 people and causing extensive property damage.
President Joe Biden visited the area on Friday.
In December 2021, about 80 people were killed by tornadoes in Kentucky.