None to be spared, if works against independence: cultural leaders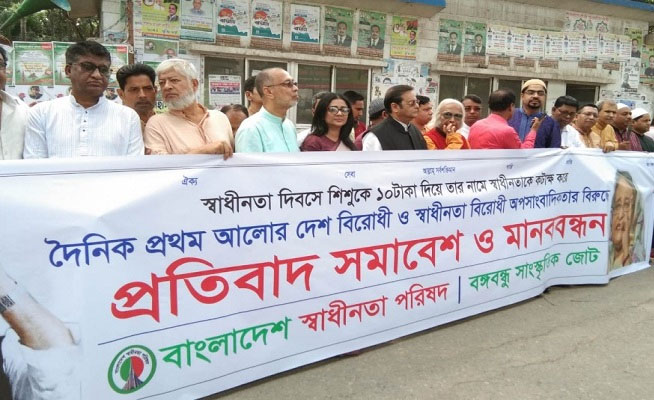 DHAKA, Mar 31, 2023 (BSS)- Bangabandhu Sangskritik Jote and Bangladesh Shadhinata Parishad leaders in a protest rally here today said none will be spared if he or she takes position against the independence of the country.
They said this while addressing a human chain and protest rally in front of the Jatiya Press Club in the city.
"If anyone attacks the spirit of the independence, we will not stay home," said noted singer Rafiqul Alam, who is also a vice president of Bangabandhu Sangskritik Jote.
The protest rally was jointly organized by Bangladesh Shadhinata Parishad and Bangabandhu Sangskritik Jote a few days after publication of a fabricated news report in Bengali daily Prothom Alo criticizing the independence.
The cultural leaders also urged the government to take necessary action against the editor of the newspaper for publishing such fabricated news.

Alam said: "You do politics...but do not insult the Father of the Nation Bangabandhu Sheikh Mujibur Rahman and our independence".
He called upon the journalists not to serve the heinous purpose of the conspirators and advised them to uphold professionalism in presenting news for the welfare of the country.
President of Shadhinata Parishad Zinnat Ali Khan presided over the meeting while singer Monoranjon Ghoshal, singer Professor Dr Arup Ratan Chowdhury, AL leader M.A. Karim, Saudi Arabia Unit Awami League Vice-President Syed Anisur Rahman, Probashi Awami Forum founder General Secretary Md Al Mamun Sarker, Shadhinata Parishad General Secretary Shahadat Hossain Toyel, Bangabandhu Sangskritik Jote Publicity Secretary Rakon Uddin Pathan and Khandaker Fayakuzzaman Farid, among others, spoke in the meeting.
Urging all the pro-liberation forces to be united, another noted Singer Monoranjon Ghoshal said the anti-liberation forces are now hatching conspiracy against the country, adding: "So, we have to keep unity under the leadership of Prime Minister Sheikh Hasina."
"It is shameful for the nation that a mainstream daily had published such fake news against our independence", he told the function.
"We will remain alert against the conspiracy of the anti-liberation forces," said noted singer Professor Dr Arup Ratan Chowdhury.