Camelback counters trek wilderness for Pakistan census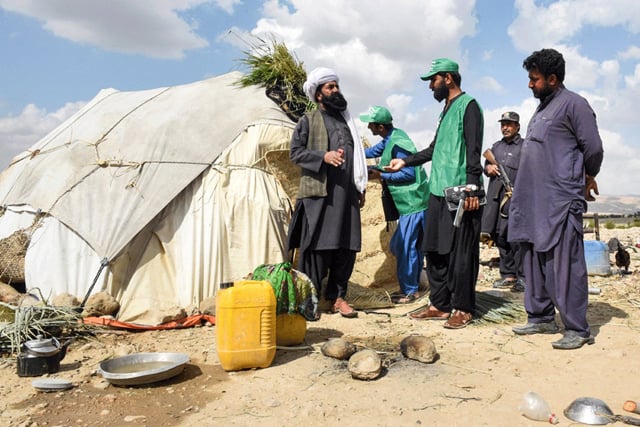 KOHLU, Pakistan, March 31, 2023 (BSS/AFP) - Plodding over the horizon of
western Pakistan, camel-riding officials spy a far-flung cluster of rough
wooden homes and start tallying its tribes people as the national census gets
under way.
Beyond the reach of roads, power lines and TV signals in central Balochistan
province, this arid settlement of five reed huts has no name and hosts barely
15 nomads -- three families herding goats and sheep.
"We ride for hours," said local census supervisor Faraz Ahmad. "We even have
to live for days out in the mountains among the people we're counting."
In cities and towns, teams wend their way from door to door on motorbikes.
But in rural Balochistan, the tarmac gives way to craggy trails that then
dissolve altogether in a wilderness of khaki rockland.
A fleet of gurning camels is the only option to get the job done.
"It takes a while to convince them to share their details," census taker
Mohammad Junaid Marri told AFP in rural Kohlu district, 210 kilometres (130
miles) east of the provincial capital Quetta and one hour by camel from the
nearest discernible road.
"In some cases, it's kind of funny. Since every census team has a security
escort, sometimes people run away," the 30-year-old said after his garlanded
camel Bhoora bowed to let him slide off its hump and start peppering families
with questions.
Between five and 10 percent of Kohlu residents live in areas so inaccessible
that camels are the only practical transport, estimates 34-year-old Ahmad.
They are rented for 1,000 rupees ($3.50) a day and the price includes a
cameleer -- a man trudging ahead to lead the bristly beasts on a leash.
- Calculating constituencies -
In a nation divided along ethnic lines, enumerating citizens -- 207 million
at last count and an estimated 220 million today -- is a politically charged
act that can alter claims to power and scant state resources.
The data will also be used to outline constituencies in future elections.
Balochistan is Pakistan's largest and least populous province, rich in
natural resources but poor by all other measures.
A separatist insurgency has long simmered in the region, fuelled by the
grievance that Islamabad has failed to share the spoils of wealth extracted
from Balochistan.
As Marri and Ahmad approach the hamlet on one camel, trailed by another
carrying a guard wielding a weathered machine gun, they are eyed by a
teenager through a pair of binoculars as children in traditional red floral
dress gather round.
"There's a lack of awareness among people about the census -- they don't
understand the benefits and downsides," said Ahmad. "They don't trust us and
fear we may cheat them."
Elsewhere, police guarding census teams in the nation's remote and restive
northwest have been killed by the Pakistani Taliban.
Despite the decidedly low-tech mode of transport, this is the first time
Pakistan's census will be compiled digitally, on tablets rather than reams of
paper.
Nonetheless, the old grievances remain.
"What benefits will we get from the census?" asked Mir Khan, 53, in another
nearby speck of a settlement at the foot of mountains.
"We will get nothing. The influential people snatch everything the government
wants to distribute to the poor."
"We have never seen any support from the government," grumbles his cousin
Pando Khan, 58.
"We see people when they're campaigning for us to vote for them, and later
they never return."
However, after swapping their personal details with families according to
local tribal customs, Ahmad and Marri convince them to answer 25 questions to
give them a clearer picture of present-day Pakistan.