Israel conducts more strikes near Damascus: Syria state media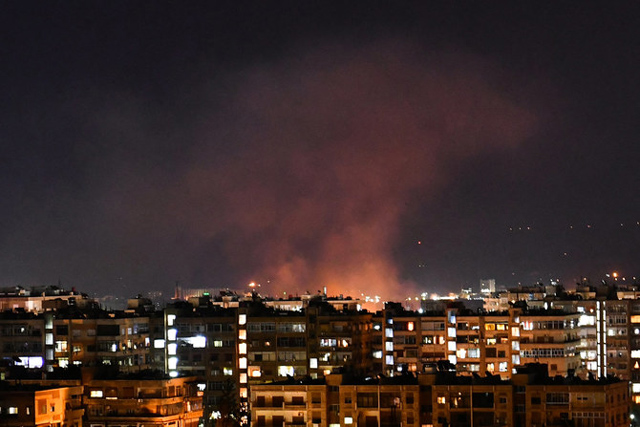 DAMASCUS, March 31, 2023 (BSS/AFP) - Israel carried out strikes near Damascus early Friday, Syria's state news agency SANA reported, the second round of aerial attacks in less than 24 hours.
During more than a decade of war in Syria, Israel has launched hundreds of air strikes on Syrian territory, primarily targeting Iran-backed forces and Hezbollah fighters, as well as Syrian army positions.
Two Syrian soldiers had been injured in attacks early Thursday, according to the country's defence ministry.
"At 00:17 (21:17 GMT), the Israeli enemy carried out an aerial attack by firing several missiles from the occupied Syrian Golan and targeting one of the positions in the vicinity of Damascus," SANA reported Friday, citing a military source.
The source added that several missiles were intercepted by Syrian air defences, reporting material damage.
The Syrian Observatory for Human Rights (OSDH), a Britain-based war monitor, said the strikes targeted positions of the Syrian military and pro-Iran groups in southwest Damascus.
The OSDH added that the missiles destroyed a weapons and ammunition depot, with no casualties reported.
An AFP correspondent in Damascus said he had been awakened by a loud bang.
While Israel rarely comments on the strikes it carries out on Syria, it has repeatedly said it will not allow its arch-foe Iran to extend its footprint in the war-torn country.
Last month, an Israeli air strike killed 15 people in a Damascus district that houses state security agencies, the Observatory said at the time.
Last week, an Israeli missile strike destroyed a suspected arms depot used by Iranian-backed militias at Syria's Aleppo airport, the war monitor said.
On March 7, three people were killed in an Israeli strike on the same airport, putting it out of service. It reopened three days later.
The Syrian war broke out in 2011 with the brutal repression of peaceful anti-government protests and escalated to a deadly armed conflict that pulled in foreign powers and global jihadists.
Some 500,000 people have been killed and about half of Syria's pre-war population has been forced from their homes.