Those who talk against constitution are 'national enemy': Amu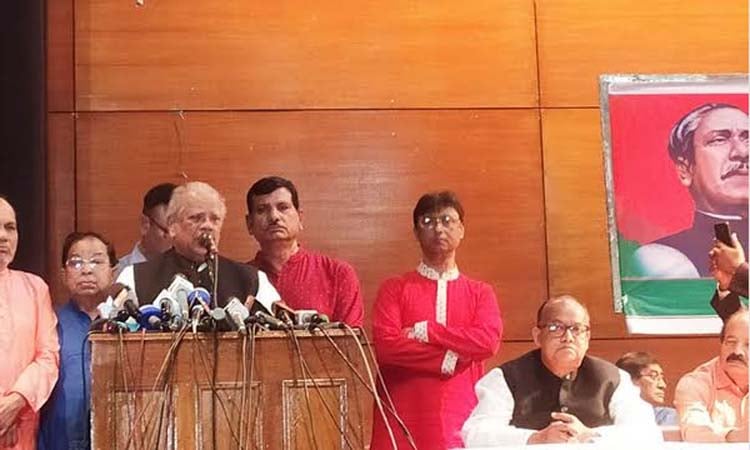 DHAKA, March 30, 2023 (BSS) - Awami League (AL) Advisory Council Member and 14-party alliance spokesperson Amir Hossain Amu today said 14-party alliance has been working in fever of the constitution written by Father of the Nation Bangabandhu Sheikh Mujibur Rahman.
"Those who talk against the constitution are national enemy," he said.
"We will go ahead under the leadership of Prime Minister Sheikh Hasina through four national policy," he told a discussion as the chief guest arranged by 14-party alliance marking the great Independence and National Day at Institution of Diploma Engineers Bangladesh (IDEB) in the city.
Amu said, "Those who will talk against our constitution, they would have to be punished. General Ziaur Rahman and his well-wishers had tried to destroy spirit of Liberation War and tried to turn Bangladesh into Pakistan by killing Bangabandhu along with his family members".
Workers Party President Rashed Khan Menon said Bangladesh is moving forwarded, conspiracy will yield no benefit for them and nobody would be able to destroy history of the country's independence.
BNP-Jamaat, he said, hold farcical election through vote looting to destroy the caretaker government. "We had struggled for free, fare and neutral election and now we want a participatory election. Action will be taken if BNP-Jamaat tries to create anarchy centering the upcoming general election," he added.
Jatiya Samajtantrik Dal (Jasod) President Hasanul Haq Inu said BNP is hatching conspiracy in the name of movement in the country which he described as a "bad ominous" for the country. BNP doesn't believe in democracy as they want to grab the state power illegally, he added.
Awami League Presidium Member Advocate Qamrul Islam said those who create anarchy, they do not believe the country's constitution and election commission. He also said discussion would not be held about caretaker government before the upcoming general election.
AL Presidium Member Mofazzal Hossain Chowdhury Maya, Bir Bikram, AL Joint General Secretary Mahbubul Alam Hanif, Samyabadi Dal General Secretary Dilip Barua, Gono Azadi League President Advocate SK Shikder, Ganatantri Party General Secretary Dr. Shahadat Hossain and AL Dhaka City South Unit General Secretary Humayun Kabir, among others, spoke in the meeting.
AL Liberation War Affairs Secretary Advocate Mrinal Kanti Das moderated it.