Barely begun, Republican primary boils down to Trump vs. DeSantis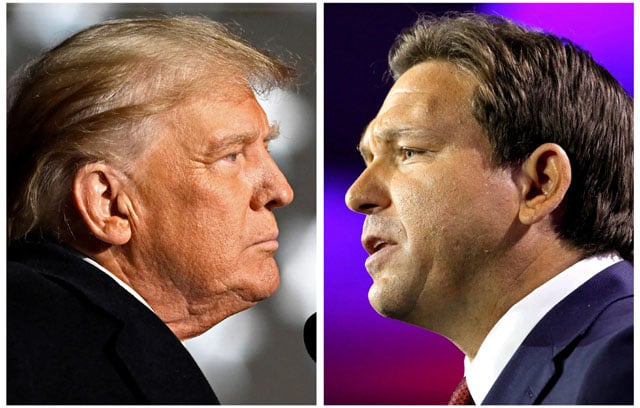 MIAMI, March 30, 2023 (BSS/AFP) - It is still almost 300 days until the first ballot is cast but the fog is already lifting in the battle for the 2024 Republican presidential nomination -- leaving two men standing.
Florida Governor Ron DeSantis has emerged as the only genuine threat so far to frontrunner Donald Trump, with the primary contest narrowing to a bitter head-to-head over character and the ability to win elections.
A number of lower-profile hopefuls have been bystanders as the 76-year-old political brawler with a peerless aptitude for sniffing out weakness among his enemies has concentrated his fire on the young pretender, 32 years his junior.
Trump is making his third run for the White House after losing his re-election bid to Democrat Joe Biden in 2020, while DeSantis, who is yet to officially announce his candidacy, is untested on the national stage.
The similarities are unmistakable -- from the populist style honed in their respective fiefdoms at opposite ends of Florida to their love of showmanship, culture wars and a good old-fashioned dust-up with the media.
But their success in persuading Republicans to give them a shot at the White House in 2024 may well turn on their ability to play to their differences.
The pair weren't always foes. Trump endorsed DeSantis in his first run for governor in 2018, before distancing himself from his protege after the 44-year-old's landslide re-election victory last year.
The combative governor's crusade against the "woke" left-wing ideology he sees as infecting schools and other public institutions has made him a major player in American conservatism and, in many respects, a Trump "mini-me."
- 'No daily drama' -
Meanwhile, the de facto Republican leader has been rolling out his rhetorical artillery, labeling DeSantis a "mediocre governor," scoffing at his claims to have kept Florida open during the pandemic and painting him as a threat to the welfare safety net.
The Florida governor responded with his most direct shots yet at his adversary, drawing a distinction between his own "no daily drama" leadership style and the stubborn whiff of scandal and constant chaos around Trump.
As with the stragglers among the Republican White House hopefuls, DeSantis has not diverged meaningfully from Trump's stated positions or governing record, reducing the contest to a question of style over substance.
"On a policy front, they're probably very similar. They share some of the same basic America First kind of policies," says Saul Anuzis, a political consultant and former chairman of the Michigan Republican Party.
"But their style, their way of governance, that's where the big difference comes in."
DeSantis, the progeny of working-class parents, a war veteran and a Harvard and Yale graduate, is from different stock than the former president, heir to a real estate empire built up by his father.
"DeSantis seems to be less bombastic, more deliberate, while at the same time willing to take on the media," Anuzis notes.
"He is not afraid of a fight but he does it in a softer, kinder way."
Trump, on the other hand, is a "larger-than-life populist," according to Matthew Continetti, a researcher at the American Enterprise Institute think tank and author of a history of the US conservative movement.

"He is someone whose personality overwhelms everything else," he said.
- 'Remarkably unpopular' -
For this expert, DeSantis has better odds than Trump for defeating the 2024 Democratic candidate, which will almost certainly be Biden.
"(Trump) is very popular among his base supporters, but two-thirds of the country don't want to see him (as) president again," Continetti says.
Another reason to think DeSantis might play better in the general election: he isn't facing criminal investigation in multiple jurisdictions and isn't seen as a one-man crime wave by much of Middle America -- the 30 percent of voters that decide elections.
Trump's controversies have not dampened his enthusiasm for swatting away rivals with puerile smears and DeSantis will be expected to hit back with alacrity.
But he will also need to contend with Trump's secret sauce -- the enormous leeway his supporters give him compared with the much higher standards to which other politicians are held.
The DeSantis campaign, for example, took a big hit from both parties when he downplayed Russia's brutal invasion of Ukraine as a "territorial dispute" -- while Trump's nakedly pro-Putin rhetoric barely raises an eyebrow.
"I don't think there's any benefit for DeSantis or anybody to really attack Trump at this stage of the game," Azunis told AFP.
"DeSantis has set his own timetable," he added. "He has been very disciplined so far, and I think that discipline has served him well."