Turkmenistan holds parliamentary elections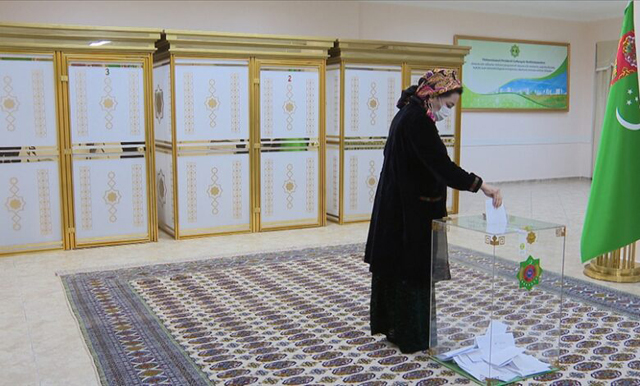 ASHGABAT, Turkmenistan, March 26, 2023 (BSS/AFP) - Parliamentary polls opened
on Sunday in Turkmenistan, a gas-rich authoritarian country that does not
tolerate political dissent or a free press.
The vote is the first under the Central Asian nation's new president, who
took power following a hereditary succession last year, and comes after the
abolition of the legislature's upper house and the creation of a supreme
body.
Polling stations opened at seven am (0200 GMT) and will close at seven pm
(1400 GMT) , according to an AFP correspondent in the capital Ashgabat.
Turkmenistan, a former Soviet republic, is one of the world's most
repressive, secretive states and little is known about how the regime makes
day-to-day decisions.
For nearly two decades, the country has been ruled by one family, and no
election has been judged free or fair by Western poll observers.
Former dentist and health minister Gurbanguly Berdymukhamedov came to power
in 2006, succeeding the country's founding president Saparmurat Niyazov after
his death.
Berdymukhamedov, who established a strong cult of personality during his
tenure, handed the reins over to his son Serdar last year after a token snap
election, but kept his position as chair of the upper house of parliament.
In January, the 65-year-old proposed abolishing the upper house -- created at
his request in 2021 -- and setting up "a supreme representative body of
people's power", the Halk Maslahaty or "People's Council".
He was named head of the new body and observers say Berdymukhamedov senior --
also called Arkadag or "Protector" -- remains the real holder of power.
The new council's remit covers the main directions of Turkmenistan's domestic
and foreign policy, overshadowing the unicameral national assembly and its
125 members.
Since stepping down, Berdymukhamedov senior has met several foreign leaders,
including Russian President Vladimir Putin last year, and a new city is being
built in his honour.
Turkmenistan remains one of the world's most closed-off countries, and
according to Reporters Without Borders ranks 177th out of 180 countries for
press freedom, ahead of Iran, Eritrea and North Korea.
Its economy depends hugely on gas exports to China and to a lesser extent
Russia and Iran.