BCL for state apology from Pakistan for March 25 genocide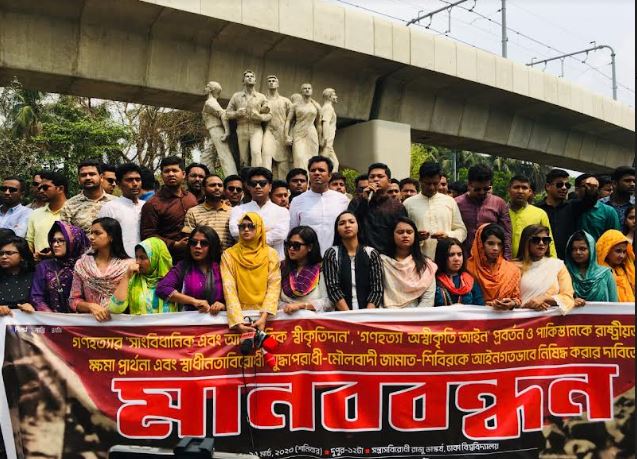 DHAKA, March 25, 2023 (BSS) - Bangladesh Chhatra League (BCL) today staged demonstration on Dhaka University campus with a four-point demand including state apology from Pakistan for the massacre of Bangalees on March 25 in 1971.
From a human chain at the base of university's Raju Memorial Sculpture, BCL leaders placed a four-point demand which include international recognition of March 25 genocide, introducing 'Genocide Denial Act', state apology from Pakistan for March 25 massacre and ban on war criminal and fundamentalist organisation Jamaat-Shibir.
Addressing the human chain, BCL President Saddam Hussain said Pakistan should apologize to international community, Bangladesh government and the people of Bangladesh for the massacre of March 25, 1971.
"We think that the issue of genocide should be recognized as a separate article in the Bangladesh constitution," Saddam said.
"December 9 has been recognized as International Genocide Day. Recognizing March 25 as International Genocide Day will make the issue more sensitive and important to more people," he added.
Saddam said, "We firmly believe that we have established February 21 as International Mother Language Day. Mongol Shobhajatra has been recognized internationally. In the same way, we will bring out international recognition for 25 as International Genocide Day," he said.

BCL President also said those who are involved in war crimes, according to international law, have no right to do politics. "Just as Germany's Gestapo forces are not allowed to do politics, it is time to legally ban Jamaat-shibir," he added.
Conducted by BCL General Secretary Sheikh Wali Asif Enan, the human chain was also addressed by BCL DU unit President Mazharul Kabir Shayon and General Secretary Tanbir Hasan Shaikat.