Khalid calls for collective efforts for int'l recognition of 1971 genocide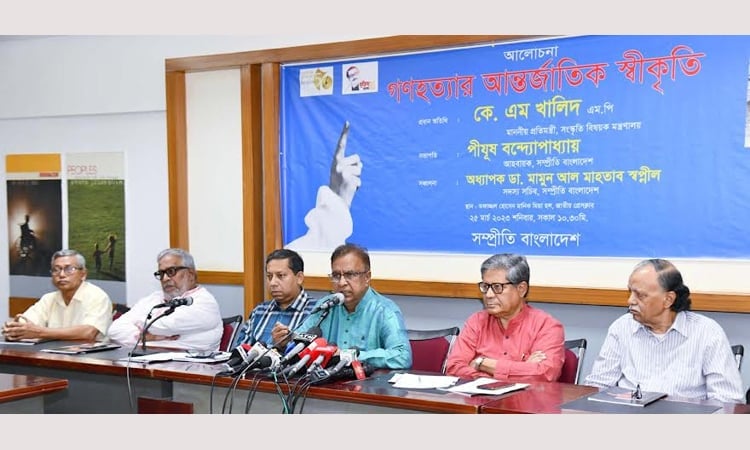 DHAKA, March 25, 2023 (BSS) - State Minister for Culture Affairs KM Khalid today said various public and private organizations are working as per the directions of Prime Minister Sheikh Hasina, to achieve international recognition of the 1971 genocide.
"Pakistan's 1971 massacre did not get international recognition as genocide since it was backed by some superpowers including the US and China...However, we will soon get the recognition as initiative will be taken to translate books and documents on 1971 genocide into English," Khalid said while addressing as the chief guest at a discussion meeting on 'International Recognition of Genocide' organized by Sampriti Bangladesh at Tafazzal Hossain Manik Mia Hall of the National Press Club in the capital this morning, said a release.
"The Cultural Affairs Ministry's project 'Genocide-Torture and Liberation War Research Center' under the guidance of Professor Muntasir Mamun is collecting data on genocide through a nationwide survey program. Various private organizations like- 'Sampriti Bangladesh', 'Bangabandhu Parishad' are working on the project," he said.
"So far, 17,286 mass graves and 4,500 boddhyobhumi (killing grounds) have been identified in 34 districts. We hope that the actual number of mass killings in 1971 will be known and thereby the numerical debate on mass killings will end," Khalid added.
"Under the initiatives of PM Sheikh Hasina, we have been observing March 25th as Genocide day since 2017. We hope that international recognition of the genocide of 1971 will be achieved soon," he said, added the release.
Piyush Banerjee, convener of 'Sampriti Bangladesh' presided over the program, which was conducted by the member secretary of 'Sampriti Bangladesh' Professor Dr. Mamun Al Mahtab.