BNP wants to destroy sanctity of Ramadan: Hasan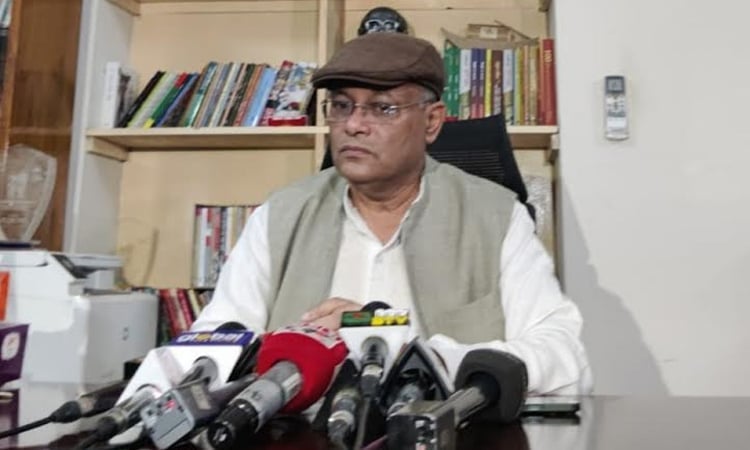 DHAKA, March 25, 2023 (BSS) – Information and Broadcasting Minister and Awami League Joint General Secretary Dr Hasan Mahmud today said BNP wants to destroy the sanctity of Ramadan by announcing movement in the holy month of fasting.
"In the past, we never saw any announcement of movement in the holy month of Ramadan. Because, every party refrains from holding political programme maintaining sanctity of Ramadan," he said.
Hasan added: "During Ramadan, political parties hold iftar party and hold talks there. Other programmes are also arranged. But BNP's programme gives the impression that they even want to destroy the sanctity of Ramadan."
He said these while replying to questions from journalists about BNP's announcement of different political programmes during Ramadan, at his Minto Road residence here.
The minister said BNP doesn't want people's comfort even during the Ramadan as the party is making evil efforts to create disorder in the country.
About the price hike of essentials during the Ramadan, he said, those, who are increasing the prices despite having more than enough storage of goods in the country during Ramadan, are doing anti-people acts.
"It is sorrowful but truth that some dishonest traders increase prices of goods for making excessive profits whenever Ramadan or any other festival or occasion appears," he said.
Hasan said ahead of the Ramadan, Prime Minister Sheikh Hasina took required measures to keep okay the supply of all products including the import-oriented and production-based ones.
As a result, the stock of food products is not only enough rather it is more than enough, he said, adding that there is no logical reason behind price hike during Ramadan.
"It is mentioned in our food policy that if the country has stock of 10 lakh tonnes of food grains, it is safe. But, at present the country has a stock of over 20 lakh tonnes of food grains -rice, wheat and consumer goods. The stocks of some products are more than the demand in Ramadan," he said.
Even after that, some dishonest traders and hoarders are making evil efforts to increase the prices capitalizing on Ramadan, he mentioned.
Terming these act as anti-people, he said the government has already taken measures against these acts and if required, provisions of punishment should be kept.
He said the Directorate of National Consumers' Right Protection and different agencies have already become active to monitor the market.
Such monitoring will be carried out at upazila level soon, he said.
He urged the people to remain alert about the matter.
Though prices of products have increased in the wake of global context due to the war in Ukraine, Bangladesh never faced crisis of products like the countries in Europe-America, he said.
He called upon the media to come forward to make reports against dishonest traders so that none can create crisis and increase prices to make excessive profits.