All set to celebrate Independence Day in Rangpur tomorrow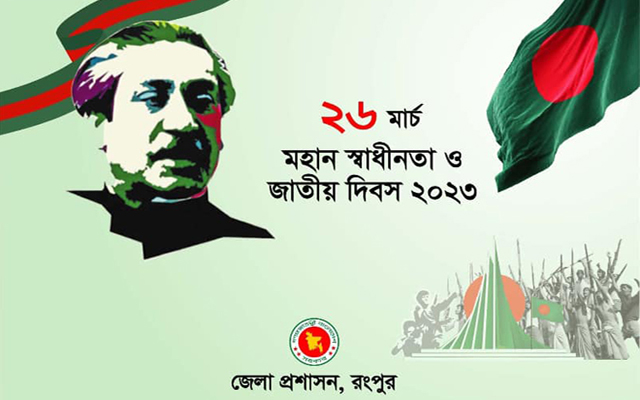 RANGPUR, March 25, 2023 (BSS) - The authorities concerned have completed all
preparations to celebrate the country's Independence and National Day-2023 in
a festive mood with huge enthusiasm tomorrow (Sunday).

The district administration, Rangpur City Corporation (RpCC), Awami League
(AL) and its associate bodies, educational institutions, sociocultural and
professional organisations have taken colorful programs to celebrate the
auspicious occasion of the nation.

The celebrations will begin with heralding 31 gun salutes at 'Swadhinota
Smritistambha Arjan' in Modern Mour area of the city at zero hours.

With the sunrise, the national flag will be hoisted atop all government,
semi-government, private and public buildings, educational institutions and
other establishments.

Floral wreaths will be placed at 'Swadhinota Smritistambha Arjan',
Bangabandhu's mural in the Bangabandhu Square at DC Mour area and 'Shaheed
Muktijoddha Smritistambha' in Collectorate Surovi Uddyan of the city.

The Divisional Commissioner, Mayor of Rangpur, Deputy Inspector General for
Rangpur Range Police, Rangpur Metropolitan Police Commissioner, Deputy
Commissioner, Superintendent of Police and District Council Chairman will
first place wreaths there.

Later, leaders of Awami League, its associate bodies and other political
parties, heroic freedom fighters, heads of government departments and
educational institutions, business bodies, civil society members,
professionals and commoners will place wreaths.

Divisional Commissioner Md. Sabirul Islam with high officials will
ceremonially hoist the national flag amid rendering of the National Anthem at
Sheikh Russel Stadium, Rangpur at 8 am on the day.
Later, he will take salute from the March Pasts of police, Ansar and VDP,
BNCC, fire service and civil defense personnel, jail guards, scouts, girls in
scouts, students and children and witness colorful displays there.

The programs also include drawing competitions for children on the War of
Liberation, charity football matches, different sports competitions,
screening of films on the War of Liberation at cinema halls without tickets
and cultural functions.

The main streets and roadside islands will be decorated with the national
flag, posters and miniatures and the government, semi-government and private
buildings will be illuminated in the city.

Heroic freedom fighters, family members and relatives of martyred freedom
fighters will be accorded receptions at the District Shilpokola Academy
auditorium.

A special discussion on the War of Liberation and independence for women
followed by sports competitions will be arranged at Rangpur Government Girls'
High School premises.

Special prayers and munajats will be offered at mosques, temples, pagodas,
churches and other places of worship seeking eternal peace for departed souls
of martyred freedom fighters and continuous peace, progress and development
of the nation.

Improved diets will be served to the inmates of all hospitals, jails, Shishu
Paribars, rehabilitation centers of street children, welfare centers for
disabled people, vagabond centers and child day care centers.

Rangpur Kendra of Bangladesh Betar will air cultural and special programs and
local dailies will publish special supplements, essays and literary magazines
glorifying the importance and dignity of the Independence and National Day.

The district administration will arrange the main discussion titled 'The
Historical leadership of Father of the Nation Bangabandhu Sheikh Mujibur
Rahman and Development of the Country' to be followed by a prize distribution
ceremony at the District Shilpokola Academy auditorium.

The district and city units of Awami League and its associate bodies, heroic
freedom fighters, different political parties and organisations, Begum Rokeya
University and other educational institutions have chalked out colorful
programs marking the day.