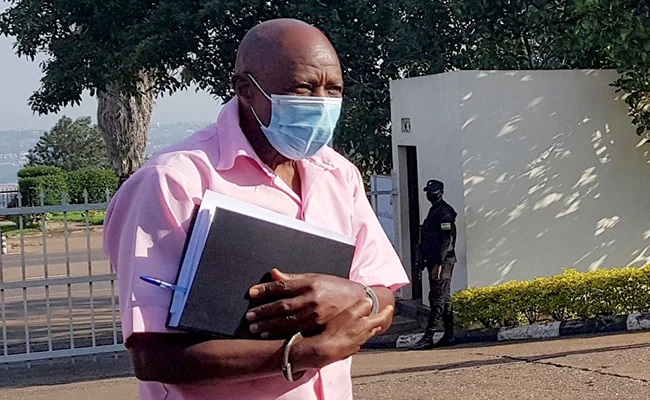 KIGALI, March 25, 2023 (BSS/AFP) - Rwandan government critic Paul Rusesabagina, whose efforts to save people during the 1994 genocide were portrayed in hit Hollywood film "Hotel Rwanda", has been freed from prison after more than 900 days behind bars.
Rusesabagina was released late Friday and will return to the United States after the Kigali government commuted his 25-year sentence on terrorism charges.
His detention sparked criticism in the West and among rights groups, and highlighted Rwanda's record of crushing political dissent and free speech under President Paul Kagame.
Rusesabagina was jailed after he was found to have backed an armed rebel group in a trial that his supporters denounced as a sham.
The 68-year-old has been in failing health and his family said he was tortured during his 939 days in detention.
His sentence was "commuted by presidential order", as were the prison terms of 19 co-defendants convicted alongside him, government spokeswoman Yolande Makolo told AFP.
Shortly before midnight on Friday, Rusesabagina arrived at the Qatari ambassador's residence in Kigali, a US official said.
He will likely stay there for "a couple of days" before flying to Qatar, which helped broker his release, and then to the United States where he has permanent residency, another US official said.
Rwanda praised the role of both the United States and Qatar in resolving the case, after Kagame held talks in Doha earlier this month.
"This is the result of a shared desire to reset (the) US-Rwanda relationship," Kagame's press secretary Stephanie Nyombayire tweeted Friday, adding the close relationship between Rwanda and Qatar was "key".
US President Joe Biden welcomed Rusesabagina's release, calling it a "happy outcome".
"Paul's family is eager to welcome him back to the United States, and I share their joy at today's good news," he said in a statement.
- Leave 'politics behind me' -
Rusesabagina, also a Belgian citizen, was accused of supporting the National Liberation Front (FLN), a rebel group blamed for attacks in Rwanda in 2018 and 2019 that killed nine people.
He denied any involvement in the attacks, but was a founder of the Rwandan Movement for Democratic Change (MRCD), an opposition group of which the FLN is seen as the armed wing.
He was arrested after a plane en route to Burundi was diverted to Rwanda in August 2020 in an incident the United Nations has described as an "abduction".
Rusesabagina had left Rwanda in 1996 and relocated to Belgium with his wife and children.
Nearly a decade later, he became an almost overnight celebrity with the release of the 2004 film "Hotel Rwanda" starring Don Cheadle.
The film was inspired by his experience as a hotel manager during the 1994 Rwandan genocide, when his family and hundreds of guests -- mainly ethnic Tutsis like his wife -- took refuge inside the Mille Collines as machete-wielding mobs killed people outside the hotel gates.
Rusesabagina is credited with helping save almost 1,200 lives during the 100-day slaughter that left about 800,000 Rwandans dead and ended with a new Tutsi-dominated government.
He went on to become a vocal critic of Kagame, and his tirades against the leader led him to be treated as an enemy of the state.
In a letter released by the government on Friday but dated October 2022, Rusesabagina pledged to bow out of political life in exchange for a pardon.
"I understand fully that I will spend the remainder of my days in the United States in quiet reflection. I can assure you through this letter that I hold no personal or political ambitions otherwise. I will leave questions regarding Rwandan politics behind me."
- 'Means to silence opponents' -
Friday's announcement came a day after Kagame left close ally Qatar, where he had signalled his government was looking at ways of resolving the case.
Talks on a potential release started at the end of 2022 and a breakthrough came last week in discussions between Kagame and Qatar's emir, Sheikh Tamim bin Hamad al-Thani, a source with knowledge of the negotiations said.
Rusesabagina's case has long been a source of contention between Washington and Kigali, and it was raised by US Secretary of State Antony Blinken on a visit to Rwanda in August last year.
The United States has said Rusesabagina was "wrongfully detained" but Kagame last year insisted the United States could not "bully" him into ordering his release.
Blinken said in a statement on Friday that the United States was "grateful" to Rwanda for the release.
Last year, Rusesabagina's family filed a $400 million lawsuit in the United States against Kagame, the Rwandan government and other figures for allegedly abducting and torturing him.
Victoire Ingabire, another Kagame critic who was also jailed on terrorism charges before being pardoned in 2018, said the move aims to silence Rwanda's opposition.
"Once a person has been convicted by the Rwandan courts, they are stripped of their rights to engage in politics, and a presidential pardon does not restore those rights," she told AFP.