Los Angeles school strikers get 30 percent pay hike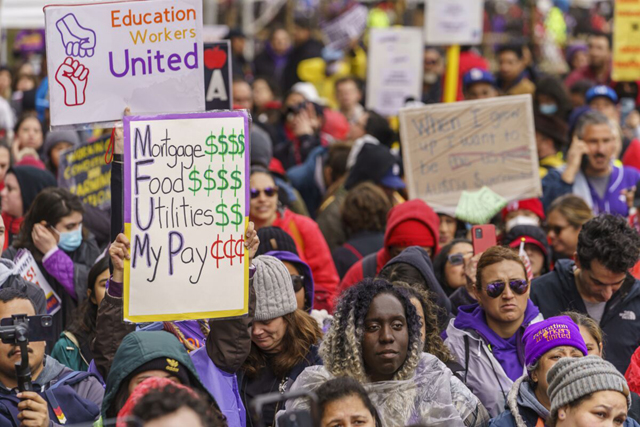 LOS ANGELES, March 25, 2023 (BSS/AFP) - School workers who shut down education for around half a million pupils in Los Angeles this week with a three-day strike won a 30 percent pay hike, their union said Friday.
Bus drivers, cafeteria workers and special education assistants employed by Los Angeles Unified School District -- the second biggest in the United States -- halted work on Tuesday demanding an end to what they called "poverty wages."
With teachers refusing to cross the picket lines, the county's huge public school system ground to a halt.
After talks between the Service Employees International Union Local 99 and the LAUSD board, a tentative deal was announced Friday effectively meeting the union's demand for a boost in pay by nearly a third.
The union said the wage hike will increase the average salary of members from $25,000 a year to $33,000.
The proposed deal -- which must be voted on by the membership -- also includes a $1,000 bonus for all members who were with the district in the 2020-21 school year.
In its own statement, LAUSD said the deal "addresses historic pay inequities, creates a massive expansion of healthcare benefits for part-time employees, invests considerable resources into professional development for the workforce, all while maintaining financial stability for the district."
Los Angeles is one of America's most pricey places to live, with high taxes and expensive grocery and utility bills.
Median rent in the city is $3,000 per month, according to property website Zillow.
The dispute was the latest labor disagreement to rattle the United States, and comes as Americans struggle with a persistent cost of living crisis, which has seen prices of everyday goods and services rocketing up over the last year or so.
Figures released last week showed the consumer price index rose six percent from a year ago.