Biden arrives in Canada to discuss trade, migration challenges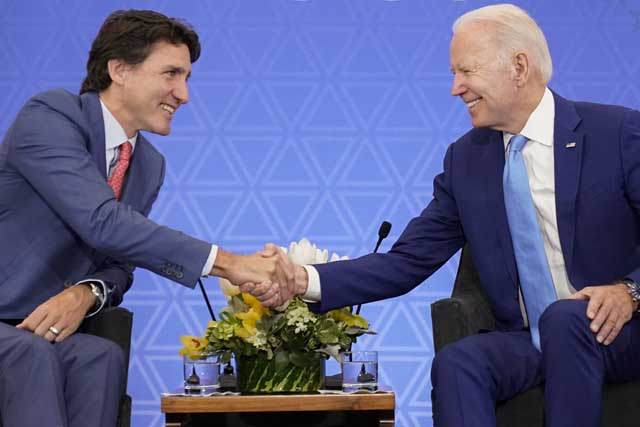 OTTAWA, March 24, 2023 (BSS/AFP) - US President Joe Biden arrived Thursday in Canada where he will meet Prime Minister Justin Trudeau and address parliament, with reports that a deal has been struck on managing undocumented migration across the neighbors' long border.
Trade, Canada's anemic defense spending, and a potential international force to stabilize troubled Haiti are expected to be on the agenda in the events set largely for Friday.
As Biden flew north, there were reports that another hot button issue in the otherwise smooth relationship had been resolved through a deal to clamp down on undocumented migration by asylum seekers passing through the United States into Canada.
According to The New York Times and the Los Angeles Times, Canada will be able to stop illegal migrants at the Roxham Road crossing point on the frontier between New York state and Quebec.
The flow of migrants there has been a source of irritation in domestic Canadian politics, much as it is in Washington concerning illegal entries across the US-Mexico border.
The reports said that Canada has agreed in return to take in some 15,000 asylum seekers from Latin America through legal channels, a move that will ease the pressure on the southern US border.
But as Biden and his wife First Lady Jill Biden arrived at Trudeau's home Thursday evening for dinner, the president declined to answer a reporter's question on the deal.
He then accompanied the prime minister and his wife Sophie Gregoire Trudeau inside.
Earlier, Press Secretary Karine Jean-Pierre would not confirm the news but said "we will hear more about it from the president and the prime minister tomorrow."
Ahead of the visit, the two sides stressed their close integration.