US Human Rights report made from biased sources: Hasan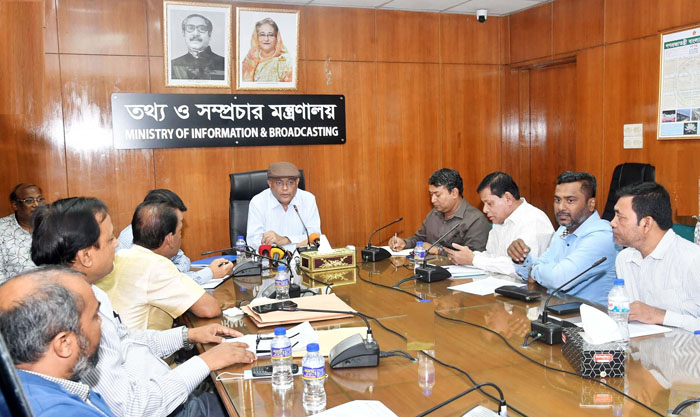 DHAKA, March 22, 2023 (BSS) - Information and Broadcasting Minister Dr Hasan Mahmud today said the US Human Rights report has been prepared after collecting information from biased sources and it is one-sided.
He said this while replying to journalists after exchanging views with leaders of Bangladesh Federal Union of Newspaper Press Workers and Bangladesh Newspaper Workers' Federation at the ministry conference room at Secretariat here.
"They collected data from not a single source rather from different anti-government and biased sources. So, the report is one-sided. Definitely, we are not rejecting the entire report as some good issues are there," he said.
But the issues, relating to Bangladesh's human rights situation, elections and democracy, which were mentioned in the report are biased, he added.
Hasan, also Awami League joint general secretary, said there are many questions over the US elections too. Donald Trump hasn't accepted his defeat in the elections so far, he said.
"Heinous incidents like the attack in the US Capitol Hill under the leadership of Donald Trump never took place in our country. I think, before raising questions over our elections, the US should look at the questions raised about their own election system and the issues like Capitol Hill attack," he said.
"Now it is a matter to observe whether any other large country would publish report over the US Human Rights situation or election system in future," he said.
Noting that the US sometimes talks about extra-judicial killings in Bangladesh, the minister said if anyone notices the extra-judicial killings in the US, it will be found that 7,666 people were killed in police firing between 2013 and 2019, 996 people in 2020 and on an average 1000 people in 2021-2022 period.
"Now it is a question whether the country, where on an average 1000 people are killed in police firing every year, has moral right to raise questions over other countries," he said.
"I am not saying that such incidents never take place in our country. But investigations are carried out into the incidents and punishments are also given after investigations," he said.
Earlier, during the view-exchange meeting, Newspaper Workers' Federation President Matiur Rahman Talukder and Federal Union of Newspaper Press Workers President Md Alamgir Hossain Khan highlighted diffident issues of their workplaces.
They also handed over to the minister a memorandum containing an 11-point demand, including Covid-19 period assistance for the members of the two organizations, imparting training to their members at Press Institute Bangladesh and establishing welfare fund.
The minister assured them of considering the demands after examining those.
Information and Broadcasting Ministry's Joint Secretary Md. Kawser Ahammed, Newspaper Workers' Federation Vice-President Md Bazlur Rahman Milon, Secretary General Md Khairul Islam, Members Md Tanvir Hossain, Md Aminul Islam, Md Abdul Gafur, Md Rafiqul Islam, Habibullah, Md Shahadat Hossain, Abdul Kadir, Md Hamidur Rashid Khan, Abida Sultana and Federal Union of Newspaper Press Workers Vice-President Shamim Chowdhury, Secretary General Md Kamal Uddin, Members Md Razzaq Patwari, AHM Najmul Ahsan, Md Mostaq Ahmed, Tajammel Haque, Md Yusuf Ali, Md Abdul Mannan, Md Atiur Rahman, Md Liakat Ali and Selina Akhter Iti took part in the meeting.