COVID-19 survivors carry high burden of long-term effects: study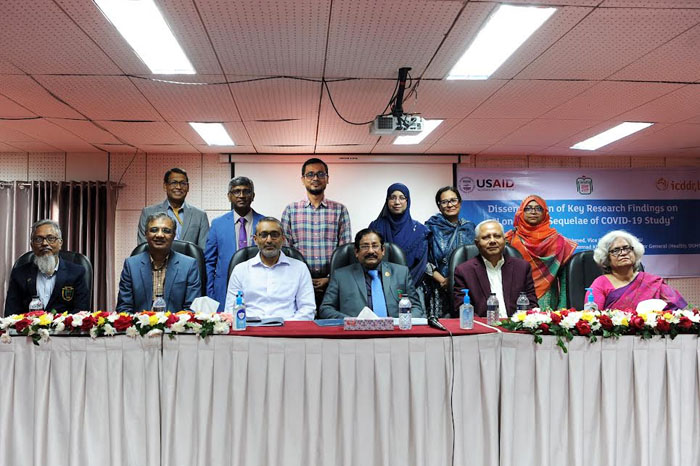 DHAKA, March 21, 2023 (BSS) - COVID-19 survivors carry a high burden of long-term effects of the disease, according to a study revealed here today.

The first of its kind in Asia, the study found post-COVID-19 syndrome (PCS) or long COVID among the survivors.

The ICDDR,B and Bangabandhu Sheikh Mujib Medical University (BSMMU) jointly organized a dissemination seminar titled "Long-Term Sequelae of COVID-19: A Longitudinal Follow-Up Study in Dhaka, Bangladesh."

The seminar also presented a guideline titled "Long COVID Clinical Management Guideline for Physicians", a press release said.
The findings, based on the first five months of participant follow-ups, were recently published in The Lancet Regional Health Southeast Asia.

The study was funded by the United States Agency for International Development (USAID) Alliance for Combating TB (ACTB) in Bangladesh activity.

Professor Dr Shohael Mahmud Arafat, Chairman, Department of Internal Medicine, BSMMU; Professor Dr Chowdhury Meshkat Ahmed, Department of Cardiology, BSMMU, and Dr Farzana Afroze, Associate Scientist, Nutrition and Clinical Service Division, ICDDR,B and the principal investigator of the study presented key findings at the event.

The study was conducted at two COVID-19-designated hospitals in Dhaka, Bangladesh, between December 15, 2020 and October 30, 2021.

The researchers recruited clinically recovered individuals older than 18 years with RT-PCR-confirmed COVID-19 who sought care from the study hospitals with or without hospitalisation.

The 362 enrolled participants were given comprehensive in-person follow-ups at one, three and five-month post-recovery intervals to evaluate the presence or trajectories of PCS symptoms which include neurological, cardiac, respiratory outcomes, and mental health.

The study participants will be followed up for 24 months.

The study revealed that COVID-19 survivors over the age of 60 are twice as likely to develop cardiovascular, and neurological complications when compared to the age group younger than 40 years.

The long-term effects of the disease also seem to differ by gender - the prevalence of developing post-COVID complications was found to be 1.5 to 4 times higher in females than in males. Long-term complications in hospitalised patients and those needing intensive care were 2-3 times more likely than in non-hospitalized patients.

Hospitalised survivors with pre-existing diabetes had a 9 to 11 times higher possibility of having uncontrolled blood sugar with regular medication and hence required the administration of insulin therapy more often compared to those who did not require hospitalisation.

The new occurrence of diabetes was 10 cases per 1,000 people - among hospitalised patients, compared to none in the non-hospitalised group.
Similarly, the new occurrence of renal impairment (high creatinine and proteinuria) and the increased liver enzyme were considerably high among COVID-19 survivors.

Most complications decreased over time in both groups, however, shortness of breath, fast pulse rate, post-traumatic stress disorder, anxiety and depression did not decline significantly in the non-hospitalized group, even five months after recovery.

The results highlight the need for continuous follow-up and care of COVID-19 survivors. Older and hospitalised patients should be routinely monitored for cardiovascular complications, given their increased risk.