Rangpur region to produce record 2,06,930 tones of Aush rice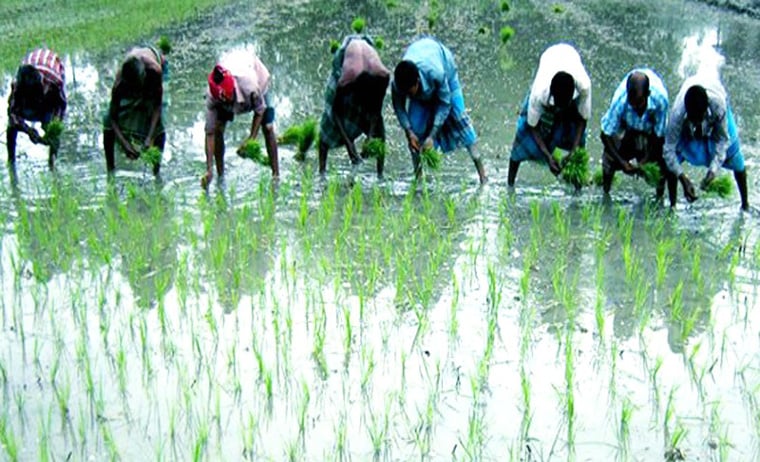 RANGPUR, March 21, 2023 (BSS) – The Department of Agricultural Extension (DAE) has fixed an all-time record target of producing 2,06,930 tones of clean Aush rice (3,10,395 tones of paddy) for Rangpur agriculture region this season.

The DAE officials said farmers have already prepared Aus rice seedbeds on 762 hectares of land against the target of preparing the same on 3,354 hectares in Rangpur, Gaibandha, Kurigram, Lalmonirhat and Nilphamari districts of the region.

Farmers are expected to start transplanting Aush rice seedlings in their croplands from next month.

"Transplantation of Aush rice seedling will get momentum from May and continue till the first week of June next," additional director of the DAE for Rangpur region Agriculturist Md. Aftab Hossain said.

He said Aush rice cultivation continues to expand to increase rice production amid changing climate for the last ten years following various pragmatic steps taken by the government.

The steps include distribution of special intensives among small and marginal farmers, conducting motivational campaigns and providing technical support to farmers.

"Cultivation of the less irrigation water consuming and short duration Aus rice is expanding persistently as an additional crop during the off-season between Boro rice harvest and Aman rice seedling transplantation," Hossain said.

Last year, farmers produced 1,78,777 tones of clean Aush rice (2,68,165 tones of paddy) from 63,680 hectares of land in Rangpur agriculture region.

Earlier, farmers produced over 1.94-lakh tones of clean Aush rice from 62,090 hectares of land in 2021 and 1.83-lakh tones of clean Aush rice from 59,092 hectares of land in 2020 in the region.

Farmers produced 1.48-lakh tones of clean Aush rice from 47,552 hectares of land in 2019, 1.23-lakh tones of clean Aush rice from 40, 618 hectares of land in 2018, 73,543 tones of clean Aush rice from 24,717 hectares in 2017 in the region.

"Besides, farmers produced 65,505 tonnes of Aush rice from 21,751 hectares of land in 2016, 61,676 tonnes from 21,063 hectares of land in 2015, 59,685 tonnes from 19,205 hectares in 2014 and 51,722 tonnes from 17,523 hectares of land in 2013," he added.

Deputy Director of the DAE for Rangpur Agriculturist Md. Obaidur Rahman Mandal said Aush rice cultivation has already become popular among farmers following various effective steps taken by the government.

Apart from carrying out motivational campaigns for Aush rice cultivation, the DAE continues distributing special incentives in terms of quality seeds and fertilisers among farmers free of cost and reaching the latest technologies to their doorsteps.

"After harvesting Aush rice by mid-August, farmers can easily cultivate Aman rice on the same land to enhance rice production for attaining sustainable national food security," he added.

The Independent Medal 2018 (food security) winner Agriculturist Dr. Md. Abdul Mazid hailed the government for providing incentives to farmers for expanding cultivation of the less irrigation water consuming Aush rice as an additional crop.

Dr. Mazid suggested farmers expand cultivation of Aush rice, mostly using unused rainwater during May, June and July, adopting the latest technologies to increase rice output for ensuring national food security amid adverse impacts of climate change.

Talking to BSS, farmers Manik Mian, Ariful Haque Batul, Ayub Ali and Mofizar Rahman of different villages in Rangpur said they are preparing their lands for transplantation of Aush rice seedlings from next month.