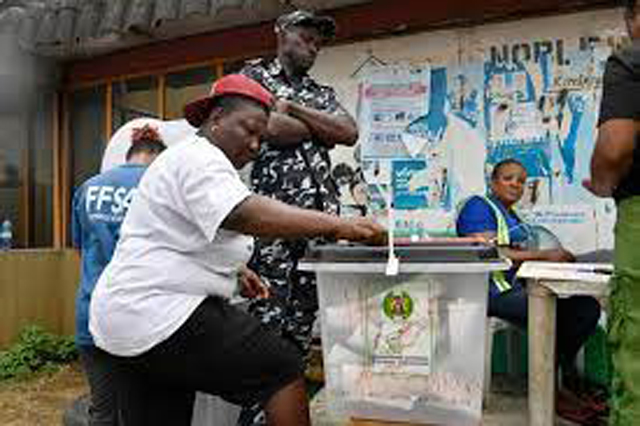 LAGOS, March 21, 2023 (BSS/AFP) - Nigeria's ruling party held onto the powerful Lagos governor post on Monday, following local elections at the weekend that observers said were marked by violent intimidation, thuggery and vote buying.
With the count ongoing, the ruling All Progressives Congress (APC) was declared winner in the majority of governorships where tallies had been completed.
Governors are powerful figures in Nigeria and some control state budgets that are larger than those of several African nations.
Saturday's elections for 28 governors and more than 900 state assembly lawmakers came three weeks after the governing party won a presidential ballot that opposition candidates claim was massively rigged.
Outsider Peter Obi of the Labour Party (LP) -- though he came third in the February 25 election -- surprised by winning the most votes in Lagos, considered the fiefdom of president-elect Bola Tinubu.
Obi and second-placed candidate Atiku Abubakar of the Peoples Democratic Party (PDP) are contesting the presidential result in court.
The key question on Saturday was whether Obi's growing popularity, especially among Nigeria's youth, would translate into success at the local polls.
But the APC's Babajide Sanwo-Olu scored a landslide re-election as Lagos governor, the Independent National Electoral Commission (INEC) said on Monday.
The incumbent won more than twice the number of votes of LP candidate Gbadebo Rhodes-Vivour.
- 'A sense of discouragement' -
So far, the APC has won the governorship races in the states of Gombe, Jigawa, Katsina, Niger, Kwara, Nasawara, Ogun, Sokoto and Yobe.
The PDP has won in Oyo, Delta, Bauchi, Plateau and Akwa Ibom.
In Kano, the economic heart of the mainly Muslim north, thousands of supporters of the smaller New Nigeria People's Party took to the streets to celebrate their trouncing the APC.
Results were still pending on Monday in the key southern state of Rivers.
In the key northeastern region of Adamawa -- which could see the election of Nigeria's first woman governor -- the results were declared "inconclusive" as the number of voters unable to cast their ballot was greater than the margin between the two frontrunners.
President Muhammadu Buhari of the APC is stepping down in May after two terms, leaving Africa's most populous country in a state of growing insecurity, economic woes and widening poverty.
Many were disappointed by the way the February election to replace him was conducted and turnout for Saturday's local polls was low.
Voters and opposition parties complained in February that technical mishaps allowed for vote rigging, which the electoral commission has denied.
The Centre for Democracy and Development (CDD), which observed Saturday's poll, noted "a sense of discouragement that due to the unfavourable outcome of the presidential election 'there is no point' coming out to vote".
Polling units mostly opened on time and both the biometric registration machines and online portal to view results functioned relatively well, the CDD and another observer group, Yiaga Africa, said.
- Beatings and disruption -
But violence was recorded across several states, with thugs showing up at polling units to intimidate voters and in some cases destroying electoral material.
Voting was postponed until Sunday at some polling stations in Lagos and Rivers State as a result of tensions.
"Multiple incidents of thuggery and intimidation interrupted polling in various locations," the EU observation mission said on Monday. "Vote buying, also observed by EU EOM observers, further detracted from appropriate conduct of the elections."
In southeast Imo State, where armed separatist groups are active, a group of ad hoc electoral staff were taken hostage on Saturday morning. They were quickly rescued but election material went missing.
Almost 100 electoral staff, volunteers and their drivers came under gunfire while driving to a ballot collation centre in Kogi on Sunday, police said. Three people were injured before police reinforcements managed to rescue them.
The INEC also suspended vote counting in some parts of Abia and Enugu states in the southeast after thugs tried to invade ballot collation centres.
"Processes were disrupted by actors over whom we have little or no control," INEC official Festus Okoye said on Sunday evening, condemning the violence.
Vote buying was more rampant than during the presidential election, observers reported earlier in the day.
Party agents were seen giving out 1,000 naira (about $2) in exchange for votes, as well as spaghetti, fabric and alcohol, Yiaga Africa said.