Boosting ties among Bangla-speaking people in Bangladesh, India stressed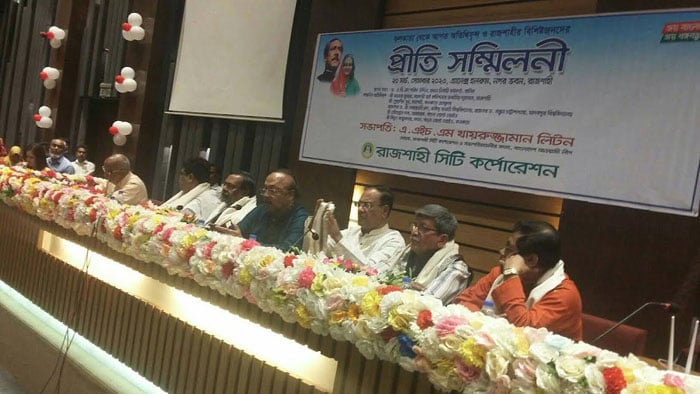 RAJSHAHI, March 20, 2023 (BSS) - Boosting relations between the Bangla-speaking people of both Bangladesh and India is very important as they are the same in language, culture and other living and livelihood matters for immemorial time.
There are enormous scopes of hastening connectivity between people of the two close-door neighbours through sharing and exchanging activities related to culture, education and tourism.
Utmost emphasis should be given in this field on behalf of both the sides on priority basis.
The observation came at a friendly meeting to mark the arrival of a five-member delegation from Kolkata in Rajshahi city this afternoon.
Rajshahi City Corporation (RCC) hosted the meeting at Nagar bhaban conference hall largely attended by educationists, cultural personalities, professional leaders, members of the civil society and social workers.
RCC Mayor and Presidium Member of Bangladesh Awami League AHM Khairuzzaman Liton chaired the meeting.
President of Kolkata Press Club Snehashish Sur, Prof Debjyati Chanda from Rabindra Bharati University, Prof Santanu Chattapadhay from Jadavpur University, Bangla Worldwide President Somyabrota Das and its Member Bidyuth Majumder addressed the meeting.
Former Vice-chancellor of Rajshahi University Prof Abdul Khaleque, Senior Journalist Mustafizur Rahman Khan and Prof Mustaque Ahmed from Rajshahi University also spoke. RCC Chief Executive Officer Dr Sharif Uddin welcomed the participants.
Snehashish Sur mentioned that language, love, affection and culture of the people can't be stopped through barbed-wire fencing.
In his remarks, Mayor Liton said the existing relation between Bangladesh and India has reached a new height as they maintain close and cordial relations on various bilateral fields and issues.
"People of the two neighbouring countries are enjoying the benefits of the friendly relation in different fields, including communication, healthcare and tourism," he said.

Bangladesh and India, as the closest neighbours, will continue to work together to establish a secure South Asia for the benefit of all people.
He said the relationship has its genesis in the War of Liberation in 1971 and Father of the Nation Bangabandhu Sheikh Mujibur Rahman maintained excellent relations with the Indian leadership.
"We recall with deep gratitude the contribution of the government of India for standing firmly by us in our most difficult time," he said.
Khairuzzaman Liton said the partnership is multifaceted and in the past couple of years, since Prime Minister Sheikh Hasina assumed office, they have attained some tangible goals in many areas.